NBA Fans Are Clowning LeBron James Over His Epic Flop Last Night
"He's in critical condition, he might die," one person said.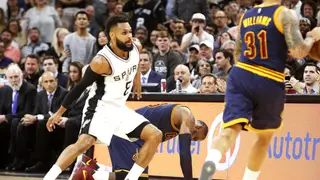 There's no doubting LeBron James being one of the greatest NBA players ever.
But as legendary as the three-time champion has proven himself to be, he has built quite the reputation of flopping in big games.
Last night, during the San Antonio Spurs' 103-74 win over the Cleveland Cavaliers, many NBA fans believe that LeBron delayed a flop and even faked an injury, reacting seconds late to being elbowed in the back late in the third quarter.
Giving LeBron the benefit of the doubt, the elbow landed by Spurs power forward David Lee might have sent a stinging pain towards James, but let's just say that fans didn't buy it. 
The Spurs were leading by 24 points at the time of the incident and many hoop heads believe that James delivered his latest epic flop and laid it on thick just to get out of the game. After the Cavs' loss, James did say that he was fine and will be able to play Thursday night, when the defending champions visit the Chicago Bulls.
Here's the elbow that put LeBron on the floor and all the roasting, clowning reactions to his arguable flop.
Down Goes LeBron, Down Goes LeBron!

Is there such a thing as a delayed flop? Fans didn't waste time saying that's precisely what LeBron did.

'He's In Critical Condition, He Might Die'

Was it that bad, though, LeBron?

Was That a love tap or did that elbow really do damage?

"Tap N Flop" ... that's cold-blooded.

Some Fans Believe King James Purposely Had the Delayed Reaction To Weasel Out Of The Smackdown That The Spurs Were Delivering

The Spurs were leading by 24 points when this happened, before going on to cruise towards the 103-74 win.

#Facts?

Did LeBron's faux injury become bigger than the Spurs destroying the defending champion Cavs?

Whether he flopped/faked the injury or not, it turned out to be costly

True indeed. The Cavs' loss helped the Boston Celtics take over as the top seed in the Eastern Conference.

LeBron's Latest Fall Made One Fan Even Post This Compilation of all his flops

Yet another reason why the internet remains undefeated.

Where's The Love?

Well, King James does have an acting resume going, so he could work this in.