Look: Co-Parenting Mixed-Race Kids Requires More Than Racial Tolerance
What happens when fetishizing Black bodies results in having to raise one? An interview with Nick Harris.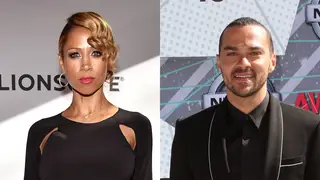 It's far from unique to see an interracial couple these days. The millennial generation is the most racially mixed to date and the U.S. Census predicts that, by the year 2044, there won't even be a white majority. But within the larger construct of interracial love are several smaller, equally vital conversations — one of which is interracial co-parenting. What happens when an interracial couple has a child and then splits up? What issues arise?
These are questions single father Nick Harris had to come to terms with recently in a text exchange between himself and his daughter's white mother. Nick posted a text conversation with his ex concerning his daughter's hairstyle, which was the pretty common style of cornrows done by the child's aunt, and the screen shots went viral. When his daughter's mother saw a picture of the braids, she berated Harris, saying the style looked "too Black." Harris defended his choice by reminding her that their daughter is, in fact, half Black. The exchanged escalated and went on for three pages. Once the internet caught wind of the epic text battle, the outrage sparked a heated reaction. 
"I was extremely surprised by the response," Harris told BET, "I expected to speak to a few friends and see if any of them had any advice or were in the situation. In the end I got the opinions of the entire world." 
Co-parenting comes with its fair share of ordeals. From coordinating schedules and staving off separation anxiety to exercising patience while each newly single parent finds their footing. But is it more difficult to co-parent a mixed-race child? Are there more challenges for the parents in this social climate?

Parents of mixed race children are often faced with the additional task of being their child's cultural hub. Walk into any baby drumming class or African dance studio and you're bound to see at least one white mother dutifully exposing her mixed child to his or her culture — it's a beautiful sight. In a society that seems to require a re-focus on self-love and self-care, children should be encouraged to embrace all of the cultures associated with their backgrounds by at least one of their parents. The difference between a mixed child who grows up exposed, conscious and aware could be the difference between Stacey Dash and Jesse Williams.
However, the issue between Nick Harris and his daughter's mother wasn't exactly about lack of advocacy — it was about blatant racism. His co-parenting counterpart wasn't fussing over a forgotten drop-off time — she was attempting to argue away her daughter's physically obvious Blackness. Which begs the question: How they got together in the first place?
While Nick insists he didn't pick up on any anti-Black feelings from his ex before the exchange, it's glaringly obvious that she draws a line in racial tolerance where her daughter is concerned. "Be very careful who you make a child with, because even after five years, you may not know someone as well as you thought," Nick warns potential parents. This, of course, is the golden rule of dating but it's especially important when dipping into the interracial pond. While a beautiful Black body may appeal to the masses, Black culture is often criticized, underplayed and tucked away like the embarrassing stepchild by those in opposition.
Does your bond stand the test of cornrows?

All in all, Nick Harris learned something new about his family dynamic as well as the fact that, generally, the world is in his corner on the subject. It's an important reminder to be aware of who we commit our time to. He offers advice to co-parents on either side of the racial fence on how to help acclimate biracial kids into the real world. "Give them the best of you and raise them the best that you can," he says. "Teach them your culture, teach them their mother's culture and love them wholeheartedly." 
And, for good measure, ask that your interracial dating partners check their privilege at the door.

Ashley Simpo is a writer and digital media strategist living in Brooklyn, New York. Originally hailing from Oakland, California, she is an advocate for women's equality and reproductive rights, housing rights and topics relating to the overall health of the Black community. She is a mother of one and fierce supporter to fellow writers of color.