Birdman Abruptly Leaves 'The Breakfast Club' After Cursing Them Out
It got really real, really quick.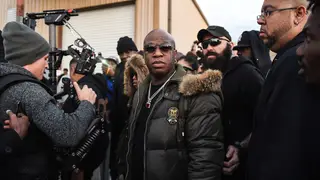 Of all the memorable moments The Breakfast Club has produced over the years, this was one of the most shocking.
When it was announced that Birdman would be today's (April 22) guest on the show people were already doing their Baby handrub. The show's itinerary turned out way differently than anyone expected though as he walked out of the station just minutes after arriving.
Before the show even officially started, things were heating up as you could tell the YMCMB head had issues with hosts DJ Envy, Angela Yee, and of course, Charlamagne Tha God. "I'm a start this sh*t off by telling all three of y'all stop playing with my name," he exclaimed. "Stop playing with my f**king name!"
After semi explaining why he was mad (which we still don't know the full reason why) Birdman referenced past incidents where he could've "pull up" on Charlamagne in retaliation for not putting "some respect on" his name.
"I wanted to see you. I wanted to talk you as a man to your face," he explained. "I knew a few places you was at, I could've pulled up, but I thought that was gangsta. I wanted to come look you in your face like a man and tell you how I feel." Then of course, Charlamagne replied in typical fashion (with no chill) by asking Baby why he didn't "pull up on [Rick] Ross that way, Or Trick Daddy?"
Birdman didn't really have much of a response for that and dipped out with his legion of goons shortly after. We're still trying to process what the point of him going up there for three minutes was, and when we find out we'll let you know.
Watch Birdman's full (but abbreviated) interview with The Breakfast Club below.
BET.com is your No. 1 source for Black celebrity news, photos, exclusive videos and all the latest in the world of hip hop and R&B music.
(Photo: Erika Goldring/Getty Images)