Too Far? Watch Kim Zolciak Lunge For Kenya Moore's Neck After She Calls Her Daughter A Ho
Of course, NeNe has an opinion…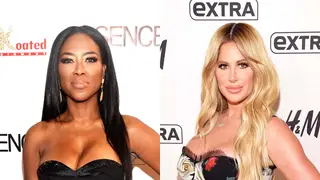 Sunday night's episode of the Real Housewives of Atlanta didn't spare the drama as, while it seemed as all was going smoothly for the hour, Kim Zolciak-Biermann flipped everything on its head, making the most of her "Friend of a Housewife" role by attacking Kenya Moore.
This isn't the first time this has happened. Recap when Kim lunged at Kenya back in July with BET Breaks, above.
Things seemed to settle between them after their initial blowout at Sheree Whitfield's housewarming party where the former Housewives OG repeatedly heckled Moore for "wanting to be her."
"B***h, you want to be me. You want to have a baby, you can't," she said then. "You want to have a man, you f****g don't."
Well, now that Moore has one of the seeming requirements of being like Zolciak-Biermann — according to her — she wasn't willing to let up on the dragging, taking her gripe with the newly married reality star to NeNe Leakes' "Girls and Gays" themed white party.
Things took a turn for the worse when the ladies headed inside to catch up and from there, Zolciak-Biermann went on a slanderous tirade about the validity of Moore's marriage after the ladies brought up the possibility of meeting her husband, Marc Daly.
"It ain't gonna f*****n' happen b***h because he doesn't exist," she said as Moore sat quietly in the corner. "It's all a bunch of lies. A bunch of b******t. He don't exist."
After holding her tongue for a minute, Moore clapped back, and she didn't hold any punches.
"Shut the f**k up!" she responded. "Why do you have such a hard-on for me? Didn't they cut it off during your reassignment surgery?... Worry about your husband... You're obsessed. You're asking about my life. Worry about your botched surgery. Don't worry about me... Why you so concerned?... Worry about your life and the daughter you pimp out for John Legend tickets."
From there, things seemed to get violent as Kim rose from her seat and lunged at Kenya.
Take a look at the explosive verbal dispute, below:
Meanwhile, as viewers shared their opinions on the altercation, NeNe also shared her two-cents on Instagram, calling newfound besties Zolciak-Biermann and Whitfield haters.
This is going to be an interesting season, for sure.