You Probably Won't Guess the Person Who Taught Michael Jackson How to Moonwalk
Or so he says...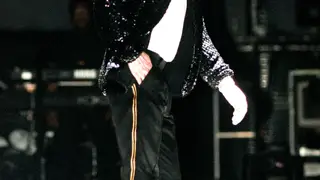 Of all the impact, influence and inspiration that the King of Pop Michael Jackson left behind for Hollywood after his 2009 passing, there's one particular gem that will forever imprint MJ's legacy: his signature moonwalk.
But even the most iconic and talent-inherited of musicians learn their gifts from somewhere or someone, and Bobby Brown has taken credit for showing MJ the moonwalking ropes. 
In a lengthy conversation with host Shawn Setaro of The Cipher,  the New Edition frontman dished on some of the inspiration behind his own exclusive dance moves. "Scorpio," a hit from OGs of the Grandmaster Flash & The Furious Five, was one of the first songs that got him up and moving on the dance floor. His Orchard Park hometown of Boston, he says, was the birthplace of the moonwalk, courtesy of himself.
"I had a few moves that was just super," he explained. "Plus, I was the first one in Orchard Park to do the moonwalk. So, the moonwalk was one of my signature moves. Nobody. I had brought it up from down South. It was something that just killed the game once I brought it up the East Coast."
According to Bobby, the dance craze existed long before Motown 25 and he even passed his  moonwalk instructor's lesson down to the King of Pop before it became his signature move.
"Actually, I was the one that taught Michael how to do it," he said when asked about the moonwalk's origins. Bobby explained how it all went down, recollecting that him and his New Edition clique received an invite to the Thriller icon's home. They all found themselves dancing in "this big room with mirrors," in which MJ spotted Bobby's distinctive dance move.  
"We was poppin,' he was watchin' us pop," he said. "He saw me do the moonwalk. And he [asked], 'What is that?' And I did it again. He just watched it, and he just started doin' it."
Bobby admits that despite being the creator of the lunar dance sensation, he had to hand it to MJ for perfecting the moonwalk. As for where Bobby picked up the move from, he said that a young man in Alabama taught him by sliding through the move in sand deliberately spread on the ground. After it peaked Bobby's interest, the guy taught him how to conduct the move and the rest was pretty much history.
And legendary, might we add, when speaking of the late and great King of Pop.
Listen to Bobby's ball drop on the moonwalk after the 4-minute mark below.