Kodak Black Dropped A Freestyle From Jail Threatening Yung Miami, And The Internet Is Cancelling Him For Good
"This is so sickening."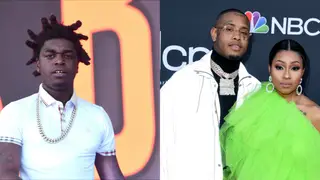 Instead of keeping a low profile while he's behind bars, Kodak Black is yet again making headlines for all the wrong reasons. The Florida rapper, who has been in jail since May on gun-related charges and has been previously arrested for the alleged rape and assault of a woman, recently released a new freestyle from behind bars that has fans calling for him to be canceled for good. 
On Sunday (July 28), a two-part post was shared on Kodak's Instagram account of a recorded phone call from jail between the rapper and an associate. In the second clip, Kodak drops a freestyle where he directly references City Girls member Yung Miami, who is currently expecting her second child with boyfriend and 808 Mafia's Southside. 

The 22-year-old starts out on a positive note, rapping about his come-up from the projects before he veers into rapping about his feelings towards Yung Miami. The freestyle takes a turn for the worse when the "ZeZe" rapper threatens to punch Miami in the stomach for getting pregnant after he bought her a ring. 

"I bought Yung Miami a ring, she wanted 808 baby," he raps, alluding to the rapper's pregnancy with the 808 Mafia leader. "When I see her I'ma hit that bitch in her stomach/ The way I keep my shit too real, they say I'm fucking up my money."

Southside heard the verse and was not having any of it. The producer took to his Instagram Stories where he unloaded a short barb against Kodak. "Somebody tell Kodak suck a d*ck," he fired back. "How about that. And get up out of jail first."

In response, Kodak continued to taunt the producer, uploading a challenge for Southside to hop on a beat. "I ripped dat bih ainna?!! @808mafiaboss Put a beat to it," he wrote in his Instagram Stories.

Welp. Kodak can add Southside, the 808 Mafia, and City Girls to the long list of people he's burned bridges with in hip-hop. This also probably doesn't help his case against the authorities, who revoked his privilege to post bond after deeming him a "danger to the community."

The bars are not sitting right with many who are calling for the 22-year-old rapper to be permanently canceled for even alluding to committing a violent act against a pregnant woman.