Respect Your Elders? Phaedra Just Went Nuclear on Mama Joyce
She tells the senior citizen to "focus on the afterlife."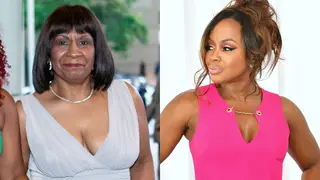 Phaedra Parks just proved that you're never to old to catch her shade.
The Real Housewives or Atlanta star blasted Mama Joyce, mother of her former friend Kandi Burruss, for implying that she knew more than she let on about her incarcerated ex-husband Apollo Nida's fraudulent activities.
"I feel like she need to be sharing that cell with Apollo," said Mama Joyce on the show. "She need to be his roommate. If you have a man and he has more than two years in jail, Georgia will give you a divorce in two months," she added. She acting like she can't get no divorce […] I know I'm right, I said you can't trust her."
After the episode showcasing Mama Joyce's accusations aired, Parks told the Bravo blogs, "I am never surprised when attention seeking people say and do things to get attention, because it's what they do and it is expected. It is unfortunate that she is still searching for significance this late in her life, rather than focusing on the afterlife. Bless her heart."
Was that a classy way for Phaedra to say Mama Joyce should drop dead or are we reading too much into it?
Get the scoop on Apollo's new life — and new lady! — in prison from Wendy Williams above.