Al Roker Speaks Out After Being Hospitalized Twice In A Month
The legendary beloved broadcaster says he's on the mend and in good spirits.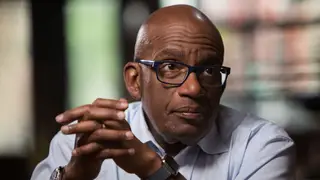 It's been a rough few weeks for legendary broadcaster and meteorologist Al Roker who was most recently hospitalized for blood clots but is now back home. The 68-year-old is speaking out about his ordeal and appears to be in good spirits.
On Dec. 12, Roker said on Today, "Listen, it's been a tough slog. I'm not going to deny it. This has been the hardest one yet — and you know I've had my share of surgeries."
Broadcasting from his kitchen, Roker, looking considerably thinner, continued, "I've got a number of issues, but I feel good, I feel strong, and every day I feel a little bit better. I made dinner last night. I just feel like this is going to be a little bit of a slog, but there are a lot of people who have to deal with a lot more with a lot fewer resources."
Always the optimist, he added, "I'm very fortunate and very blessed to be able to have the resources I've had." Roker will undergo physical therapy due to his loss of muscle mass after suffering from the blood clots. He also revealed he considered getting knee replacement surgery next month but will wait until later in 2023.
On Nov. 18, Roker, a prostate cancer survivor, was admitted to the hospital after a blood clot in his leg also caused clotting in his lungs. He was released on Thanksgiving Day but was rushed back to the hospital less than 24 hours later on Nov. 25. Thankfully, his condition improved when he was under hospital care. Roker, however, missed this year's Macy's Thanksgiving Day Parade, his first time not attending the parade in 27 years. Luckily, he was back home by Dec. 8. His wife, fellow broadcaster Deborah Roberts, took to Instagram to issue a heartfelt word of thanks to all who wished Roker and their family well. "As a family, we are overwhelmed by the love, the support, the kindness, the positive messages, the positive vibes and I absolutely believe there is power in that; there is power in positivity and power in prayer."
See Roker's interview with Today below.