A 'Real Housewives of Atlanta' Cast Member Reportedly Got the Axe
Too much drama.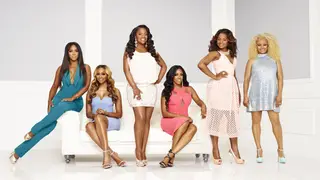 It's getting ugly in Atlanta and it looks like, after some drama at the reunion, one cast member got her walking papers. Doesn't more drama usually result in a longer career on reality television? Not in this case!
According to LoveBScott.com, Phaedra Parks's contract with the show did not get renewed. The site exclusively reports, "Everyone was given their renewal papers last week and Phaedra didn't get hers. She got caught in so many treacherous lies this season that even the producers (including Andy Cohen) have had enough. She even brought 'fake' divorce papers to the reunion to prove a point. No one knows whether she's telling the truth about anything anymore."
There was a lot of drama this season from Phaedra Parks, especially the lesbian, sex dungeon rumors that she allegedly started. The four-part reunion (yes, four hours!) is supposedly packed with tears. However, it looks like Parks is the only one who got the boot. According to LoveBScott.com, the rest of the cast is returning (for now!) and Nene Leakes and Kim Zolciak will come back to the show as Atlanta cast members.
If this report is true, good luck to Phaedra. No one can take away her law degree!
See what Apollo and his new lady have been up to with with Wendy Williams above.