Torrei Hart Reacts to Kevin Hart Having a Baby With His New Wife
The former couple share two kids of their own.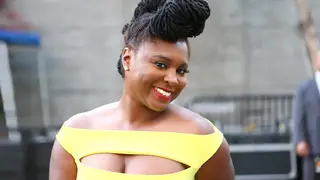 Fans were ecstatic to hear that Kevin Hart and wife Eniko are expecting their first child together when the two shared the happy news on Mother's Day. 
Naturally, soon after the news dropped, all eyes turned to Kevin's ex-wife, Torrei Hart, to see how she would react. Kev and Torrei seem to be in a good place now but that wasn't always the case.
TMZ got their hands on a video where Torrei explains that the news was a cause for celebration in her house, as her and Kevin's two children can't wait to add another sibling to their family.
Torrei begins in the video, saying, "I'm actually pretty excited because my kids are excited so I'm kind of feeding off my kids' energy. There's only one downside though that I was thinking about. I might have to babysit a little because because Eniko has been spending a lot of time with my kids." She adds, "And I'm done with diapers!"
She later adds, "I can't preach this enough, to blended families out there, just remember we're all family.
Hear what else Torrei had to say below:
It appears that, even though Kevin and Torrei couldn't make it work, their family is doing just fine.
See how Kevin caused some red carpet controversy with Real Husbands of Hollywood, above.