After Student Protest, Chicago Schools Return to Normal
Chicago schools returned to normal after a week when students boycotted state standardized tests to protest the planned closure of more than 50 schools.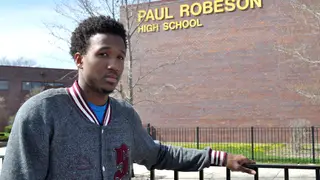 Attendance at the high schools on Chicago's South Side has returned to normal after a student protest over planned school closures created a disruption that garnered widespread attention last week.
Roughly 200 students, angry about the city's plan to close 54 schools in largely African-American and Latino areas of Chicago boycotted state standardized tests to send a message to the school district. They also rallied at the Board of Education headquarters.
"Closing school has a negative effect on students and their families," said Brian Stirgis, a 17-year-old senior at Paul Robeson High School who was a coordinator of the student protest, speaking in an interview with BET.com.
"The Chicago Public Schools said the closings are related to test score performance," Stirgis said. "But test scores don't tell a complete story. There are lots of students who do well academically, but who don't do well on standardized tests."
In fact, he and other students involved with the protests said that basing school closing decisions on test scores represents a narrow method of determining the educational value of a school.
Also, Stirgis said, that the school closures would force many students to leave their neighborhoods and to travel to other parts of the city. It also could expose students to potential dangers on their commutes, he said.
"It would cause some students to go through unfamiliar territory and have to cross gang lines on their way to school," he added. "That could lead some students to be stopped and questioned or threatened." In a city that has made national headlines for the level of gun violence in the last year, he said, "safety should be an important part of the discussion."
Stirgis, who is planning to attend Virginia State University as a psychology major next year on full academic scholarship, is part of a student-led coalition called Chicago Students Organizing to Save Our Schools, which organized the protest along with the organization Voices of Youth.

Barbara Byrd-Bennett, the chief executive of the Chicago Public Schools, issued a statement on the day of the protest urging students to go to schools.
"The only place that students should be during the school day is in the classroom with their teachers getting the education they need to be successful in life," she said. "Every adult should support and encourage our students to make sure they are in school."
The organizers were criticized by some officials for asking their fellow students to boycott important tests. But Stirgis and others said that the examinations will be offered again next month and that students will not forfeit their college opportunities.
"I feel that it's a good thing that the students took a role in this," he said. "It's important that the student voice is heard."

BET National News - Keep up to date with breaking news stories from around the nation, including headlines from the hip hop and entertainment world. Click here to subscribe to our newsletter. 
(Photo: Jonathan Hicks/BET)