Black America Votes: Live Updates From The 2020 Republican National Convention
Tune in to BET's daily news updates and primetime coverage of the 2020 Republican National Convention August 24 – 27, 2020.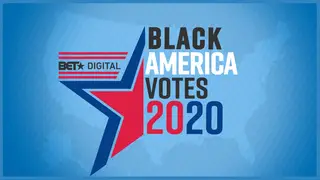 Sit-In Participant Hails Trump, Points Out GOP Support For Blacks
10:45 p.m. ET/7:45 p.m. PT: Clarence Henderson, who was among the original sit-in participants in 1960 in Greensboro, N.C., voiced his support for President Trump in a presentation to the Republican National Convention.
"I'm a military veteran and a civil rights activist, and you know what else? I am a Republican. And I support Donald Trump. If that sounds strange, you don't know your history."
After recounting his experience with other sit-in participants and the danger they were put in, but still inspired similar demonstrations which led to the abolishment of legal segregation, he gave examples of Republican efforts that benefited African Americans like passing the 13th, 14th and 15th Amendments.
"Freedom of thought is a powerful thing," Henderson said. "There are Americans, voters all over the country who media is trying to convince to conform to the same old Democratic talking points. You know what that'll get you? The same old results."
Ex-NFLer Jack Brewer Pushes Back Against Allegations of Racism Against Trump

10:05 p.m ET/7:05 p.m. PT: Former NFL player Jack Brewer defended President Trump, saying that he was not a racist and pushing back against people who said he called white supremacists "very fine people" during a 2017 rally in Charlottesville, Va., that cost one person her life.
"I know what racism looks like," said Brewer, a defenseman who played for the New York Giants, the Minnesota Vikings and the Philadelphia Eagles from 2002 to 2005. "I've seen it first hand. And America, it has no resemblance to President Trump."
Brewer said he's "fed up" with media portrayals of Trump, which he says ignores what the president has done for the Black community. "Are you going to allow the media to lie to you by falsely claiming that he said there were very fine white supremacists in Charlottesville? He didn't say that. It's a lie."
In response to the rally in Charlottesville that turned violent when white supremacists showed up to it, what Trump actually said was: "You had some very bad people in that group, but you also had people that were very fine people, on both sides."
Recap Of Night Two From The RNC
3:30 p.m. ET/12:30 p.m. PT: "The second night of the 2020 GOP Convention reminded us why our country truly is "The Land of Opportunity" for every American. The speeches, videos, Presidential pardon, and naturalization ceremony all highlighted the heart, action, and fight President Trump has for the Black community and every American community, truly deserving four more years to usher in the great American comeback." -Paris Dennard, Republican National Committee Senior Communications Advisor for Black Media Affairs  


Jon Ponder founder of Hope for Prisoners based in Las Vegas, NV, received a full pardon from President Trump. 


Daniel Cameron, the first Black American independently elected to statewide office in Kentucky said during his speech, "Mr. Vice President (Joe Biden), look at me, I am Black. We are not all the same, sir. I am not in chains. My mind is my own. And you can't tell me how to vote because of the color of my skin."


Judge Allen, the first Black American Woman to elected to the PA Superior Court said, "…I know what racism feels like, but I also know that but for my being in their country I would have never been able to achieve the things I have been able to achieve. There are injustices but the way to deal with those injustices is for people to sit down, across the table, and talk and come up with solutions I do believe President Trump is committed to that."


First Lady Melania Trump delivered her live address from the recently restored Rose Garden before a group of invited guests and said, "I also ask people to stop the violence and looting being done in the name of justice. And never make assumptions based on the color of a person's skin. Instead of tearing things down, let's reflect on our mistakes. Be proud of our evolution and look to a way forward. Every day, let us remember that we are one nation under God and we need to cherish one another."


BET's 2020 Republican National Convention Coverage
Wednesday, August 26, 2020: Follow BET's coverage with our live blog for the latest updates from the Republican National Convention kicking off in Charlotte, NC. We'll feature news about the event, speeches, performances and commentary from August 24-27. 
Each night, the convention will include speeches from Party leaders, real people and members of the Trump family. The convention stars this evening will be Vice President Mike Pence and Second Lady Karen Pence. Also on the roster are former NFL player Jack Brewer, who is also a member of Black Voices for Trump, former civil rights activist and president of the Frederick Douglass Foundation of North Carolina and the National spokesperson for the Douglass Leadership Institute, Clarence Henderson, and Utah's 4th Congressional District candidate  Burgess Owens, amongst others. 
BET.com will have all the news updates that matter to Black America so stay tuned each day and watch from the CBS News: Race To 2020 live feed above from at 9-11 p.m. ET each night.