Dawn Richard is Going From Artist to Advocate With The Hip Hop Caucus
The singer spoke to BET about her new role with the organization and how it'll help Black artists.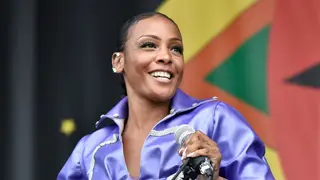 Artist and musician Dawn Richard first gained attention as a member of the mega-popular girl group Danity Kane. Bad Boy Records signed the group, and during Richard's time with the group, she gained a reputation for her powerful vocal range and captivating stage presence. In addition to her achievements with Danity Kane, Richard has made a name for herself as a pioneer in the music industry, blazing a path for other artists to forge their own individual careers. Her influence on the music industry and her dedication to using her platform for good have earned her praise throughout her career. Now that she has made her name as a solo performer, Richard is eager to make even more milestones as she continues to test the limits of musical expression and use her voice to make profound artistic and political statements.
When it comes to supporting Black musicians and composers in the industry, Richard has always been on the front lines. Recently, Richard joined the Hip Hop Caucus as the Artist Relations Director, and she hopes to help other artists who, like her, have felt marginalized and underappreciated. Richard is well-positioned to make a significant impact in her new role, and she plans to do so by calling attention to the plight of Black artists and by working to ensure that they have access to the tools they need to succeed.
Since taking on the new role, Richard has created a curated series called, "The BASEMENT",  that focuses on bringing together creatives to not just heal, but communicate and campaign for issues within the community. The most recent event during Grammy week brought together artists like Saint Elgin, India Shawn and DJ Amorphous, while providing a couch conversation with actress and singer Angelica Ross. Past guests at The Basement included Tanerélle, SAMOHT and Samuel Green.
BET caught up with the new director to talk more about advocacy, artist needs and why it is so important for her to support the artist following in her footsteps.
BET.com: I've noticed throughout your career you've always been an advocate for the voices of those who live on the margins. Why is it important for you to use your platform to do it?
Dawn Richard: So the Hip-Hop Caucus just happened to be a full circle moment because they were actually one of the first organizations to go up for our community when Katrina happened. I never thought 15 years later that I would facilitate myself with them but now, I started realizing - okay, I've built something for myself. I like where I'm at now. I have resources that I can offer to other artists who are in need.
BET.com: How has your journey in the industry shaped your advocacy and /or the way you move in the industry spaces?
Dawn Richard: I mean, I witnessed severe trauma with Katrina. I lost everything. I was homeless. Not only that, I watched my family become homeless. So I saw this interesting parallel and mirror image of capitalism and opportunity and what it means to be Black and not have anyone support you at the same time. So for me, every movement has been based on that journey. Being with Hip-Hop Caucus just further gives me an opportunity to tell artists that when they are around me - they are in a safe space. That the Black community, queer community, and everyone is safe and can be themselves. The timing felt perfect.
BET.com: Can you tell us more about your new role? What specifically drew you to wanting to work with Hip Hop Caucus?
DR: Well, I think I've done enough to have said I've built a signature in a sound that is mine and I have created something that is mine with my platform that speaks to advocacy. It was organic especially since they deal with voting and environmental justice. Working with them is close to home - specifically knowing all that is happening in the south. I want artists to be able to thrive and have generational wealth. I want them to have more than I did coming up.
BET.com: What more can we expect from The Basement series?
DR: Community. That is what you can truly expect. Beyond entertainment, I want it to feel like a safe haven for artists. I want them to sit in the space and know that they are loved. I want them to know they are respected. I really want to create something powerful, something that can be ours.
DoctorJonPaul is lover of all things education and media, Peloton, donuts and of course, Beyoncé. You can follow them on social media by using the hashtag @DoctorJonPaul and catch them on season 6 of the hit Netflix show, "Nailed It".