Prayers Up: Grandson of Sweetie Pie's Owner Shot and Killed
Andre Montgomery was only 21 years old.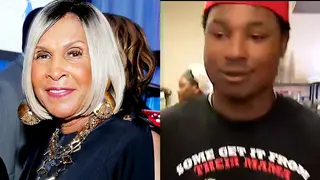 Tragic news for the Montgomery family and fans of the reality show Welcome to Sweetie Pie's. Andre Montgomery, who appeared on the show alongside his grandmother and Sweetie Pie's matriarch Robbie Montgomery, has been shot and killed in St. Louis. The 21-year-old caught gunfire inside his home on Tuesday night and died at the scene after taking a bullet to the head.
"Our hearts are with Miss Robbie, Andre's Uncle Tim Norman and the rest of the Sweetie Pie's family," Sheri Salata, president of OWN, the network that airs Welcome to Sweetie Pie's, said in a written statement.
Fans of the show saw Andre struggle with moving from Texas to St. Louis and deal with his father's death, but ultimately benefit from living close to his grandmother and uncle and even graduate high school on television. "I want Andre to become a successful man," Robbie Montgomery said during Andre's graduation episode. "And now I think he knows whatever he wants to do, if he puts forth the effort, he can do it."
Details of the shooting are not yet known, except that a second man was also shot and injured. The Montgomery family could not be reached as of Wednesday morning, undoubtedly because they're still in shock over Andre's untimely death.
Our condolences are with the Montgomery family. 
A longtime favorite in St. Louis, Oprah Winfrey helped put Sweetie Pie's on the national radar. See another business that felt the "Oprah Effect" with BET Breaks below:
BET.com is your No. 1 source for Black celebrity news, photos, exclusive videos and all the latest in the world of hip hop and R&B music.