Reggie Bush and His Baby's Mother Are Gearing Up for an Epic Custody Battle
This is going to get ugly.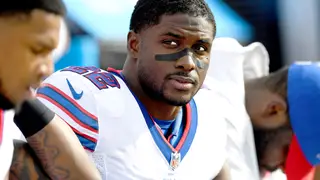 Monique Exposito, Reggie Bush's former side chick, welcomed a baby boy with the NFL star on Super Bowl Sunday.
According to Bossip, Bush allegedly offered to pay her out in $3 million of spread out payments in exchange for her silence and abortion of the child.
Exposito is now saying, though, that the payments are slowing down now that stories about the payment plan became public knowledge.
The site reports that since the Buffalo Bills' player has halted the payments, Exposito has been having some financial troubles and has been leaving their 3-week-old son with a babysitter while she scrambles to find a new lawyer.
A source adds that Bush has been refusing to pay child support for their newborn after their payment arrangement fell through.
Meanwhile, the athlete has been flaunting his seemingly blissful life with his wife, Lilit, all over the 'Gram with the comments turned off.
Take a look at what the Twitter community has to say about Bush's cheating ways, below:
Catch up on the facts of Reggie's alleged infidelities with BET Breaks, above.