Police Release Dash Cam Video of Princeton Professor's Arrest
Imani Perry was detained over parking tickets.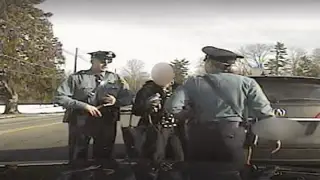 Earlier this week, Princeton University professor of African American Studies Dr. Imani Perry was arrested by local police over two unpaid parking tickets, in an experience she describes as humiliating and emblematic of police overreach when it comes to the Black community.
Perry says she was given a body search by a male officer and handcuffed to a table at the precinct. She took to social media immediately following her release to share details about her arrest, which she says is example of a "serious problem with the policing in our society."
The police department of Princeton Township has maintained that the officers were following protocol and did nothing wrong, and have now released a dash cam video of the arrest:
The video shows what appears to be a routine traffic stop with Perry, who remains compliant throughout, being pulled over by two white officers — one male, on female — who claim she had been speeding. After running her license, they discover it was expired due to a $130.00 outstanding fine. Perry was promptly handcuffed and arrested on the spot.
In her posts to social media, Dr. Perry said the male officer had performed a "body search" even though a female officer was present, and that she was not allowed to contact colleagues to inform them of her arrest. "The police treated me inappropriately and disproportionately," she wrote in a Facebook post on Monday. "The fact of my blackness is not incidental to this matter."
Though the department released footage of the arrest, it has declined to release video from inside the police station. The department responded to public records requests by saying it is "researching the legal requirements" but had "clearly demonstrated compassion to Dr. Perry's concerns, transparency and responsiveness to media and other public information requests."
Though Dr. Perry doesn't appear to be directly accusing the officers themselves of misconduct, the professor believes the problem begins with being pulled over in the first place. Statistics show that a Black person is twice as likely to be pulled over in Princeton Township as a white person. What's more, Perry says she has received angry backlash on social media for sharing her story from those who beileve she is race-baiting.
Dr. Perry said Thursday that she has received "hundreds upon hundreds of threats and slurs online, by email and via telephone" since telling her story online.
"I find myself saddened because I believe I offered a measured account of my experiences, not to the media but simply on my own social media accounts, and the snowball effect of that is that I have been attacked with incredible ugliness," she said.
"However, I believe the outpouring of care and support were a sign that what I shared struck a nerve with many people. And that resonance is something that we as a nation must contend with."
(Photos from top: Princeton Police Department, Imani Perry via Facebook)