'Insecure' Finale: 5 Possible Spin-Off TV Show Ideas
One of the Blackest shows ever to do it deserves to keep on evolving.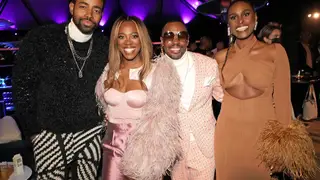 When Issa Rae's Insecure premiered on HBO in Oct. 2016, it gave longtime fans of her "mis-adventures" with Black & Sexy TV a chance to champion why the Inglewood, Calif.-raised creative was completely different from anyone else.

Centered around the friendship of Issa and Molly, audiences spent five seasons watching them navigate their lives together, apart, and with a revolving cast of characters with their own perspectives and opinions.
Insecure quickly became appointment TV for entertainment fans.
Those who were looking to engage with their Black Twitter play-cousins had a new place where they could see themselves beautifully on the small screen. From the ups and downs of dating to the conversations we don't have in the Black community, Insecure gave viewers insights and a chance to revel in relatable messy moments as a family.
With the fifth and final season (dubbed "Season Bye-ve") of the hit HBO Max comedy series now out in the world, it may be too soon to mourn the loss of our favorite Sunday night routine and those "Wine Down" catch-ups with Rae, Prentice Penny, and her castmates. In a chat with Entertainment Tonight's Nischelle Turner, the Hoorae Media founder hinted at the possibility of an Insecure spin-off in the near future.

"There's a chance for everything," Rae said. "I never want to overstay my welcome. There were good endings and they left me satisfied … but I love what we've been able to do and I love the stories that we're telling."
Insecure closed out with a proper goodbye, but it does feel like there are more contagiously delicious storylines for its surrounding characters to explore.
It also doesn't hurt that Rae signed a five-year overall deal with WarnerMedia. (Her upcoming show, Rap Sh*t, releases next year.) As Issa and co. get into their bag with other creators and collaborators, BET.com pulls out the logline generator to muse five possible spin-off show ideas that could take place within the Insecure universe.
Spoilers for Insecure: The End below.
Exploring the Mending/Ending of Dro's Open Marriage
"If we were to continue to Season 6, there are stories to tell with all of these characters still," Issa Rae recently shared in an interview with Variety. Frankly, she's right. One character, in particular, Dro (played by Sarunas J. Jackson), elicited a lot of comments from the Black Twitterati, as his return marked Season 5's most fun, messy, and action-packed episode.

In the penultimate episode, we learn that Dro and his wife, Candice (Gabrielle Dennis), have divorced as he shows up with a new bae. The audience may have been reaffirmed about how valid his "open marriage" really was, but how it got to that point is a story ripe with friction to tell. From exploring how big the lie that broke them up was to seeing Candice's POV when Dro snuck off for a bathroom quickie with Molly, a spin-off that delves into the highs and lows of an already morally questionable relationship could impress new conversations for audiences to have in the near future.
Whatever Happened to Tasha?
Issa's decision to stay with Lawrence (Jay Ellis) in the end came with a lot of different factors that felt important to longtime Insecure watchers. Interestingly enough, a tweet by @LilBrownTwists pointed out that one noteworthy callback in the series finale was sorely missed. Tasha (played by DomiNque Perry) was one of the few characters on the show who wasn't a hot mess, at least as far as the show was concerned.

A spin-off look at Tasha's life could subvert the audience's early opinions about her character as a subtly seductive homewrecker. (And the cause behind Lawrence and Issa's troubled relationship.) Despite the flack and hate mail Perry actually received when featured on the show, as Tasha, her spin-off can continue Insecure's themes of navigating life as a 30-something while subverting some of the "homewrecker" and "scheming side-chick" claims made by vitriolic fans. 
If done correctly, a premise with Tasha as its protagonist could add credence to the claim of her being one of Insecure's unsung heroes.
The Beef Between Ahmal & Kelli Is... Forever
The back-and-forth between Ahmal (Jéan Elie) and Kelli (Natasha Rothwell) led to some of the heartiest laugh-out-loud moments throughout Insecure's run. In "Everything's Gonna Be, Okay?!," it appears that the hate between the two is (in Cardi B's voice) forever especially after the latter smacked a drink out of his hand during Issa's birthday party.
But what is the backstory behind this feud between Ahmal and Kelli? "You're just gonna have to wait for that part," Eli teased in a chat with The Advocate in 2020. "I can't spill the beans." And what if therein lies the rub, Insecure fans? The beans cannot be spilled because this spin-off, which explores the obscure origins of that beef, is already in the works!?!

Ahmal and Kelli were the two comedic powerhouses throughout the entire series, and seeing the root of their tête-à-tête could be another W for Team Hoorae and HBO Max.
Adulting With Kelli Prenny
Issa Rae re-wrote the script for Insecure's final episode, changing pretty much everything except for the closing montage. It was a nice time to see her character driving around South L.A., including The Dunes, her old apartment, and past former We Got Y'all co-workers Frieda (Lisa Joyce) and Sara (Sujata Day). But one of the most endearing personal development storylines through the series' history dealt with Natasha Rothwell's Kelli Prenny.
Few characters have brought as much joy or as many gut-busting laughs as Kelli Prenny did. Her irreverence and irrepressible confidence clearly rubbed off on Natasha, who wrote, produced, and made her directorial debut on Insecure after five seasons.
And despite Kelli's new marriage and starting a firm with Molly, if there isn't a press release that says, "a half-hour comedy from the mind of Natasha Rothwell," starring the NAACP Image Award-nominated star in 2022, then HBO is doing it wrong.
Bickin' Back Being Bool with Thug Yoda
Tristan J. Winger, a mainstay part of the Issa-verse, framed Insecure's comedic sensibilities as the character of Thug Yoda. In the series finale, as Issa begins her driving tour around South L.A., we see her ride past The Dunes, her old apartment complex, and happily witness the homie with his daughter.
The moment represented the character's growth over time and highlighted the potential of seeing all the multifaceted sides of everybody's favorite Blood. Winger, as Issa's old neighbor, became a standout after only a few appearances, and delving into the father-daughter, coming-of-age dynamic is something that would capture the audiences' hearts for multiple seasons.
---
Kevin L. Clark is a screenwriter and entertainment director for BET Digital, who covers the intersection of music, film, pop culture, and social justice. Follow him on @KevitoClark.