Georgia Coast Slave Descendants Settle Federal Lawsuit Claiming Lack Of Services Eroded Their Island Community
Members of the community, one of the last Gullah-Geechee settlements remaining, receive improved emergency services, road maintenance, etc.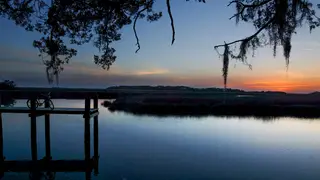 A federal lawsuit filed by an enclave of slave descendants on the Georgia coast has reportedly been settled.
According to the Associated Press, the agreement states that residents of the small Hogg Hummock community on Sapelo Island will receive improved emergency services and road maintenance from McIntosh County while some residents' property tax assessments will be frozen through 2025.
The lawsuit asserted that a lack of government services was eroding the island community, one of the last remaining Gullah-Geechee settlements on the Southeast U.S. coast. Island residents and land owners battle the county in U.S. District Court for nearly seven years before a deal was reached.
The island's Black residents successfully argued that their community of about 50 people was shrinking rapidly as landowners paid high property taxes while largely not receiving basic services, creating pressure for them to sell their land.
"We've stood up," said Reginald Hall, one of the Sapelo Island landowners who sued, on Monday (August 1), according to the AP. "And because we've been winning, we now have an opportunity for hope."
The Gullah-Geechee descendants live on Sapelo Island scattered over 425 miles of the Southern Atlanta U.S. coast, from North Carolina to Florida, where their ancestors worked on plantations until being freed by the Civil War. Hogg Hummock, also known as Hog Hammock, on the island is one of the last such communities.
The new legal settlement also requires McIntosh County to build a helicopter landing pad on the island for emergency rescues and evacuations, provide a truck equipped for emergency medical services and ensure the island's lone fire truck to be in good working condition. The county will also pay for residents to receive firefighter and emergency responder training, according to the AP.