Descendants Of James Madison's Slaves Fight For Equal Power Of Foundation Overseeing His Former Plantation
The descendants accuse the mostly-white foundation board of a 'power grab.'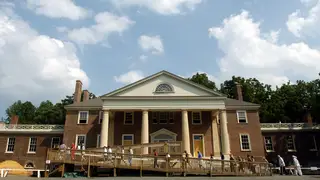 Descendants of slaves who toiled on President James Madison's sprawling 2,650-acre Montpelier home in Virginia are accusing the estate's current majority-white foundation board of violating a power-sharing agreement for the former plantation, The New York Times reports.
Last year, the foundation agreed to give equal authority on the foundation's board over the stewardship of Montpelier to the nonprofit  Montpelier Descendants Committee. The Black committee's members had expected to become "coequals in sharing governing power and responsibility for the very site that enslaved their ancestors," as Gene Hickok, the board chairman, promised in June 2021, according to the Times.
At the time, the agreement was hailed as a groundbreaking power-sharing deal that could serve as a model for other historic sites where Black people were once enslaved.
But now, the descendants group says the foundation has done just the opposite. In March, the foundation stripped board-nominating power from the Black descendants.
In the foundation's March 27 statement, Hickok said, "Currently, there are five descendants of enslaved persons on the 16-member board. Three are named by the M.D.C., and two are named by the foundation. We are working toward a board makeup that is 50 percent from the descendants' community. That is very much on track, despite earlier misinformation and inaccurate reporting."
The Montpelier Descendants Committee chair James French accused the foundation of a "power grab," giving itself the power to select which descendants would help manage the estate. He called the move "by definition racist," the Times quoted French, who is also a foundation board member.
"It was merely a power grab, and they're trying to maintain and get credit in the headlines for sharing power when they never intended to share power," he added. "We're just hearing all of this gaslighting and delays — week after week and month after month — and, in the meantime, the world still thinks they've accepted structural parity, which they haven't."
NPR reports that the relationship went from bad to worse when the foundation recently fired three senior staff members who supported the Black descendants' community.
The foundation has said the terminations were related to "repeated and disruptive violations of our employment policies." However, the foundation's actions have caught the attention of the National Trust for Historic Preservation, which owns the property.
"The National Trust has been working to achieve a resolution to the very public dispute between the foundation and the Montpelier Descendants Committee, but these and other recent actions by the foundation lead us to question whether a resolution is possible under the current leadership," the trust said in a statement.
The Times reports that the foundation on Wednesday (April 20) said it would accept nine new board candidates from the descendants committee in an apparent attempt to broker an agreement. The new board members would all be seated by October.