MC Lyte to Be Honored With I Am Hip Hop Award
Lifetime achievement to be recognized at Hip Hop Awards.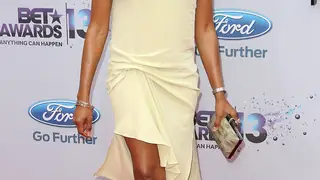 Having spent much of her life dedicated to hip hop culture, MC Lyte will be honored with the I Am Hip Hop Award presented by Sprite at this year's BET Hip Hop Awards, and she's all for it. "I love how that sounds," she said. "Let's make it happen."
Over the course of her career, the Brooklyn-born artist has become the first rapper to receive a certified gold single ("Ruffneck"), the first female MC to release a solo LP (1988's Lyte as a Rock) and the first female solo rapper nominated for a Grammy (also with "Ruffneck"). She's made a total of eight studio albums; four compilation albums; numerous contributions as a guest feature; and is working on her next, an independently released album led by the instrument-driven summer single "Cravin'" featuring Cali collective Loudbox Entertainment. 
"Eighty percent of them come from a church background, so they play all instruments," she said of Loudbox. "They really have a sense of music, which I really enjoy."
Lyte has further secured her longevity in the business by expanding her reach in the culture as a DJ, radio show co-host, actress and voice-over artist. She was the first African-American female president of the L.A. chapter of the Recording Academy and is founder of the Hip Hop Sisters Foundation, which is in its second year of offering a $100,000 academic scholarship to the University of Wisconsin-Madison, a top-ranking school. Still, with all her success, she promises there's more to come.
"There's an ever-growing list of things... I've accomplished a bit, but I'm still dead smack in the middle of wanting to do so much more," she said. For example, "With that scholarship, more money needs to be raised for books, for food, for travel... We have the docu-drama with BET [Hip Hop Sisters featuring Lyte, Lady of Rage, Yo Yo, Smooth, Monie Love and Lil Mama]... so now I'm looking for the next deal, what's the next T.V. show that I can executive produce with my company Sunni Girl? So, you know, I'm looking at it like a chess board, how can I take what it is that I have and make it flourish?"
As far as the whole genre is concerned, she says everyone can put in on enhancing it. "I say as hip hop lovers we reclaim it and we start to support that hip hop that really satiates us... we really call radio stations and say we want to hear more of our local artists.... We just need to get out there and represent for the music that we love."
The 2013 BET Hip Hop Awards ceremony will be held Sept. 28 at the Boisfeuillet Jones Atlanta Civic Center and will telecast with the premiere showing Oct. 15 at 8 p.m. ET.
BET.com is your #1 source for Black celebrity news, photos, exclusive videos and all the latest in the world of hip hop and R&B music.
 (Photo: Frederick M. Brown/Getty Images for BET)