Update: Ashanti Stalker Case Ends in Second Mistrial
Jurors deadlocked over felony charge against Devar Hurd.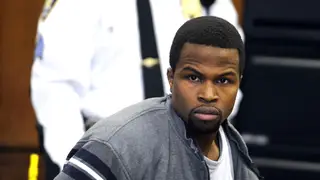 UPDATE: After two days of deliberation, a Manhattan jewelry was unable to reach a verdict in the felony stalking case against Devar Hurd, reports the New York Post.  The 35-year-old, who already served two years for stalking Ashanti, was back on trial for violating a restraining order.
Jurors did however convict Hurd on nine counts of misdemeanor criminal contempt, stalking, and harassment. The prosecutor in the case plans to retry Hurd for felony stalking. ________________________________________________________________________________________________ 
PREVIOUS: The obsessed fan convicted of stalking Ashanti made another odd court appearance Wednesday to argue against charges that he broke a restraining order.  
Hurd, who was again acting as his own lawyer, shared an outlandish theory on why the singer had him arrested. "She thought I was two-timing her," he said. "That I wasn't being loyal and trustworthy as I claimed to be to her." 
According to the New York Daily News, Hurd shouted at times when attempting to sway the Manhattan Supreme Court in his direction. The 37-year-old thinks the stalking charges are just a conspiracy to bring him down. "The [prosecutors] want to attack your intelligence today," explained Hurd. "They want to manipulate you."  
Hurd was sentenced to two years for stalking Ashanti following an arrest in 2009. The court barred him from contact with Ashanti, but he returned to old habits upon release. The current charges surround Hurd tweeting lewd messages to Ashanti and following her sister.
BET.com is your No. 1 source for Black celebrity news, photos, exclusive videos and all the latest in the world of hip hop and R&B music.
(Photo: Steven Hirsch / Splash News)