'Smile' Star Jessie T. Usher Feels Horror Films Are Becoming More Grounded In Storytelling And Shares His Favorite Horror Film
The actor is set to appear in the new psychological thriller, Smile, which hit theaters on Friday, September 30.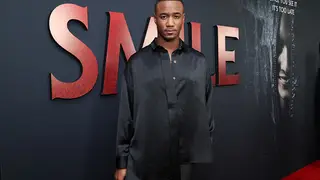 Sometimes a smile isn't always so warm.
Paramount Pictures is bringing a new type of horror where facing your traumas may be scarier than one thinks. The film follows Dr. Rose Cotter (Sosie Bacon), who starts experiencing frightening occurrences that she can't explain after witnessing a patient kill herself after being possessed. As terror begins taking over her life, Rose must confront her troubling past to survive and escape her horrifying new reality.
BET.com was able to have a conversation with co-star Jessie T. Usher (Survivor's Remorse, The Boys) about the film and how the horror genre is "broadening" out with more "grounded" storytelling.
BET.com: This film is a different kind of horror film where you must face your traumas and will do the opposite of making you smile; What was it about the film that drew you into participating?
Jessie: I thought the viewpoint was the most exciting thing —  we get to see a character whose area of expertise is what she's going through. Naturally,  people who are not psychologists would look at a psychologist and say they should be able to deal with mental health better than them since this is what they studied. I thought a character in her position could do better, and it was nice to see a more realistic approach. It doesn't matter how many books you read or how many patients you've treated — when something like this starts happening to you, you probably won't know how to handle it personally. She's a psychologist, but having her therapists call on her immediately brings the stigma up for her not to think she's crazy or I don't need to talk to a therapist. The tables have turned because she is a therapist, and now people are saying this about you. I thought that that was genius.
BET.com: How do you think horror films have evolved as time progresses, and what other lanes would you like to see horror films take?
Jessie: While I may not be the biggest fan of horror films, I feel this genre is becoming more grounded, and it's broadening with newer stories like Get Out or Smile. Those films are taking a psychological aspect and showing viewers how something that natural can be this horrific, which is most interesting to me. I'd like to see more horror films tackle mental health issues or childhood traumas.
BET.com: As you look back at your career and continue to reach higher heights, what keeps you smiling throughout your journey?
Jessie: I didn't realize it when I was younger, but what kept me going was getting addicted to the out-of-body experience when you're really in the moment. It all started when I was younger in theater, and with the adrenaline, I would feel and the audience's energy, you almost forget the performance is happening. You try to find those moments on camera, but it's hard because it's so intricate and technical. Regardless of what happens onscreen, you may not remember it, but it feels good. I would say that's the feeling that keeps me smiling — I can put myself in a unique experience in on-camera work, but once I leave, the feeling I described will be back.
BET.com: If you could participate in a horror film with any actor, who would you call to ask to participate in putting a "smile" on your face?
Jessie: Wow, what a question [haha]. I would say Samuel L. Jackson as I thoroughly enjoyed working with him on Shaft and I feel like he has a way to stay grounded in bizarre scenarios. I would love to know what it would be like to act opposite of him in a horror film. His professionalism and dedication to his characters are top-tier.
BET.com: What's your all-time favorite Horror film and why?
Jessie: My all-time favorite horror film is The Ring. It was the first film that had me scared — the idea of The Exorcist was also scary. When watching The Ring, it puts fear in your living room because you think this horrific girl will crawl through the screen, and it feels personal. That movie takes the cake.
Make sure you head to theaters in all smiles with your friends and see the new horror flick Smile in theaters on Friday, September 30.
---
*This interview has been edited for length and clarity
Ty Cole is a New York-based entertainment reporter and writer for BET.com who covers pop culture, music, and lifestyle. Follow his latest musings on Twitter @IamTyCole.