Twitter Has A Huge Problem With Justin Timberlake Reportedly Performing At The Super Bowl
Two words: Janet Jackson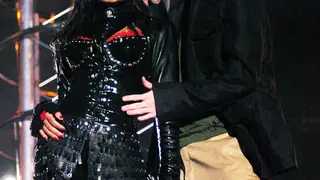 Rumor has it, Justin Timberlake is in the final stages of securing a deal to perform at the 2017 Super Bowl in Minneapolis, Us Weekly reports.
It may come as sort of shock to some, since the last time the pop singer performed on the halftime stage, it caused a tremendous amount of backlash and controversy. In 2004, Timberlake performed alongside Janet Jackson. The duo made that show one to remember after JT accidentally ripped off Jackson's costume, exposing her bare breast.
The incident, which was later dubbed as the "Nipplegate," caused quite the stir after it prompted the FCC to institute a five-secon delay on live broadcast. Following the performance, Timberlake and Jackson apologized for the scandal, and it was reported that Jackson had been black-balled from the sports community.
Nevertheless, it seems that 13 years has been enough time for Timberlake to allow the dust to settle. Sports fans, on the other hand, aren't too happy to hear about the "Rocky Yo Body" artist's return. They took to Twitter to voice their opinions, and they didn't hold back. Check out the best reactions below.
Twitter Users Weren't Overjoyed About The NFL's Alleged Pick