Tyre Nichols Case: Seven Additional Memphis Police Officers Under Investigation
City Attorney Jennifer Sink broke the news at a Memphis city council meeting.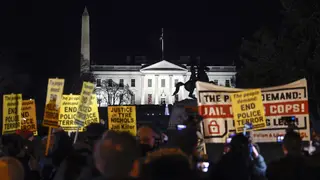 More officers will be disciplined for the brutal beating of Tyre Nichols.
"There are seven additional officers who are under investigation," City Attorney Jennifer Sink said, during a Memphis city council meeting about the violent arrest of Nichols according to CBS News, "The administrative investigation is still ongoing, and so this information is subject to change. The administrative investigation is solely to determine if city policies were violated and what disciplinary action should be taken. The criminal investigation is being handled by the TBI (Tennessee Bureau of Investigation) and DA."
Sink did not reveal the names of the seven officers or say whether or not they will be terminated. The news comes after Demetrius Haley, one of the police officers charged in Nichols' death, admitted to taking cell phone photos of a bloody Nichols and sending a photo to several people, including an unknown person who worked outside of the police department, The New York Times reports.

On Jan. 7, Nichols, 29, was pulled over by Memphis police for reckless driving. According to authorities, the traffic stop led to a "confrontation" and Nichols fled the scene on foot as he was pursued by officers. Allegedly, another confrontation occurred and he was beaten by the officers. Nichols was only 100 yards away from his mother's home. He was taken into custody and complained of having shortness of breath.
Nichols died three days later (Jan. 10) in the hospital. His family said the officers were in an unmarked vehicle when they pulled Nichols over and that he went into cardiac arrest and suffered kidney failure as a result of the officers beating him.
An independent autopsy found that Nichols died from "extensive bleeding caused by a severe beating." The Memphis Police Scorpion unit, some of whose members were in the footage, has been permanently disbanded. Scorpion stands for Street Crimes Operations to Restore Peace In Our Neighborhoods and has three teams of an estimated 30 officers. The unit has been inactive since Nichols' arrest on January 7.
Five officers, Tadarrius Bean, Demetrius Haley, Emmitt Martin III, Desmond Mills Jr., and Justin Smith, are charged with the following: one count of second-degree murder, aggravated assault-acting in concert, two counts of aggravated kidnapping, two counts of official misconduct, and one count of official oppression. NBC News has also reported Preston Hemphill, a sixth officer, was "departmentally charged and terminated." With the news of the seven additional officers being investigated, it is now a total of 13 officers facing discipline.
Earlier this week, Memphis Mayor Jim Strickland revealed the U.S. Justice Department will conduct an independent, external review of the Memphis Police Department.