Suspected South African Serial Rapist Found Dead
Alleged South African rapist Sifiso Makuhbo was found dead in his prison cell hours before his trial was set to start. The HIV-positive 42-year-old had been charged with 122 counts of rape, murder, kidnapping and attempted murder.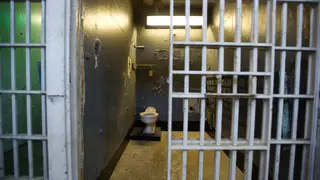 A South African man suspected of being the country's worst serial rapist, Sifiso Makuhbo, has been found dead in his prison cell hours before his trial start time, officials reported on Thursday. Makuhbo was facing 122 charges, which included murder, rape, kidnapping and attempted murder by knowingly transmitting HIV to his victims.
Reuters reported that the 42-year-old might have hung himself with a blanket, but authorities have launched an investigation to confirm his cause of death.
Arrested in 2011, Makuhbo had been accused of sexually assaulting two women and more than 30 children between January 2006 and February 2011. His youngest victim was 10 years old, according to BBC News. Reports show that at least 33 DNA samples collected from the victims as evidence had matched Makuhbo's.
Phindi Louw, a National Prosecuting Authority spokesperson, deemed the information around Makuhbo's death "sketchy" and reportedly told local media that she felt "sad" for his victims.
"To them it would have been closure," she added.

This alarming case has further cemented South Africa's standing as a country facing some of the world's highest levels of sexual violence. Last year, South African police received reports of more than 64,000 sexual offense cases, over 25,000 of which were attacks on children.
BET Global News - Your source for Black news from around the world, including international politics, health and human rights, the latest celebrity news and more. Click here to subscribe to our newsletter.