Jason Derulo Shares First Glimpse Of His Baby Boy With Girlfriend Jena Frumes
The 31-year-old singer revealed the name of his son in an Instagram post.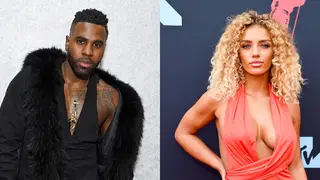 Congratulations to Jason Derulo!
On Sunday (May 8) the 31-year-old welcomed his first child, a baby boy, with his model girlfriend, Jena Frumes. The couple each revealed the news with separate Instagram posts about their son.
"The happiest day of my life bringing our baby boy (Jason King Derulo) home," Derulo captioned his IG video that showed a glimpse of the moments leading up to the birth of his son and afterward. "He's so lucky to have such a strong caring hero of a mother."
Frumes shared similar sentiments about her bundle of joy on her IG, referring to their son as their "healthy handsome little king." 
"Life now has so much more meaning & I am so grateful. I'm so so so in love with this little boy he's everything I never knew I needed👶🏽🙏🏽 05/08/2021✨," she wrote. "I love you forever Jason Derulo."
On Sunday (March 28), the singer took to social media to announce that he and Frumes are expecting their first child together.
"Couldn't be more excited for this new chapter in our life @jenafrumes," the "Take You Dancing" singer wrote in his Instagram post.
News of their romance surfaced last year during the pandemic lockdown. Metro reported that the singer and social media influencer were quarantined together.