Reporter Resigns After Dubious Story About Kamala Harris Runs
Journalist Laura Italiano claimed she was pressured to write a false report about migrant children receiving a copy of the vice president's book.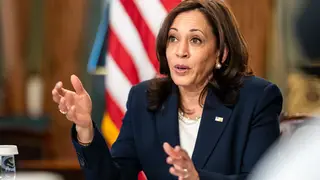 A New York Post reporter has quit her job after her byline appeared in a story reporting that copies of a book by Vice President Kamala Harris were given to children who crossed the U.S. Mexico border.
In a series of tweets, reporter Laura Italiano announced on Twitter that she resigned on Tuesday claiming that she tried to push back against the story, according to The Hill.
She called the unsuccessful attempt at preventing the story from running her "breaking point."
The story, which was first published last week, alleged that children who crossed the border were getting copies of Harris' book as part of a "welcome kit." The story went viral after conservatives promoted it, The Hill reported.
The Washington Post reported that the story was in large part false and found only one photograph of a single copy of Harris' book "Superheroes are Everywhere" was donated.
The story was temporarily removed on Tuesday and has been republished with an editor's note informing that only "one known copy of the book" was given to a child.
"The original version of this article said migrant kids were getting Harris's book in a welcome kit, but has been updated to note that only one known copy of the book was given to a child," the note said.