Four Lawmakers Use 'Hands Up, Don't Shoot' Gesture on House Floor
Politicians, athletes take a stand for communities of color.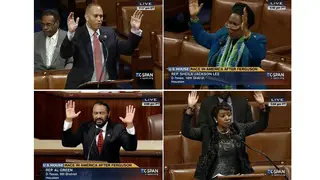 In a show of solidarity with protesters in Ferguson and vulnerable young men all around the nation, a group of Democratic members of Congress made the "hands up, don't shoot" gesture on the House floor Monday night. Their goal was to share with their colleagues what it's like to be Black in America, explained New York Rep. Hakeem Jeffries, so that ultimately congressional lawmakers can work together to develop some solutions to break the cycle of excessive police force.
"Mr. Speaker, 'hands up, don't shoot' is a rallying cry of people all across America who are fed up with police violence in community after community after community, fed up with police violence in Ferguson, in Brooklyn, in Cleveland, in Oakland. In cities and counties and rural communities," Jeffries said.
For the next 60 minutes, he and several other lawmakers delivered commentary on the frustration simmering and in some cases boiling over in African-American communities where there's a growing suspicion that the lives of Black and brown boys don't matter and can be taken without repercussion.
"The Ferguson grand jury's decision not to indict [former police officer] Darren Wilson was yet another slap in our face. It was a painful reminder that, just like with Trayvon Martin and Tamir Rice, and so many others, law enforcement officers kill our Black and brown men and boys without repercussions," said Congressional Black Caucus Chairwoman Marcia Fudge. "While some may see the grand jury's decision as the system working as it should, others witnessed what we believe was a blatant miscarriage of justice."
Ferguson prosecutor Robert McCulloch's handling of the grand jury has raised many questions. According to Rep. Gregory Meeks (New York), a former prosecutor, and other critics, he presented material and witnesses in such a way that jurors had no choice but to not indict Wilson, who was allowed to testify without being challenged. McCulloch, they say, engaged in prosecutorial misconduct by behaving more like the former officer's defense attorney.
"Ferguson speaks to the broader challenges we face as a nation — race relations — but that particularly fraught relationship between the Black community and the police," said Rep. Robin Kelly, whose family includes generations of law enforcement officers. "On the whole, I believe that those who put their lives on the line for are communities are good, but that doesn't negate the fact that in America today we still have too many in the Black community who fear the police or feel disrespected by the police, including my son and his friends, and we still have too many police officers who fear the Black community."
Such a dynamic, the Illinois congresswoman added, "colors every encounter and paves the way for tragic outcomes."
"It was a John Carlos moment," said Rep. Al Green (Texas). "Because this has become the new symbol, a new statement, a statement wherein people around the country are now calling to the attention of those who don't quite understand that this is a movement that will not dissipate; it will not evaporate."
The players' raised arms raised the ire of the St. Louis County Police Officers Association, whose police chief demanded that the players be disciplined and an apology be issued by the National Football League. He claimed an apology was made, which Rams spokesman Kevin Demoff denied.
Demoff said he told police officials he "regretted" that they were offended but, "In none of these conversations did I apologize for our players' actions."
Former Republican congressman Joe Scarborough, who hosts MSNBC's Morning Joe, was appalled by both the CBC members' and Rams' use of the gesture.
"The St. Louis Rams think it's cool for them to suggest that St. Louis cops shoot young Black men who had their hands up in the air, when we know that that was a lie?" ranted an enraged Scarborough. "It's a lie! And what was that gesture on Capitol Hill? More people going, 'It doesn't matter whether it's the truth or not, I'm going to suggest cops shoot people with their hands up in the air.' What is wrong with this country? What is wrong with these people? What is wrong with these elected officials? They know it's a lie! They know the cops didn't shoot him with his hands in the air! They know it's a lie and they are doing this on the Capitol floor? Unbelievable."
Pulitzer Prize-winning Washington Post journalist Eugene Robinson tried to explain to Scarborough that nothing in the forensic evidence "precludes the possibility that [Michael Brown] had his hands up at some point when he was approaching the officer."
Speaking on CNN's New Day Tuesday morning, Jeffries defended the Black lawmakers' actions and reiterated their purpose.
"We embrace law enforcement. We want law enforcement, particularly in communities of color and those that experience higher rates of criminal activity," he said. "We just want to make sure that people are policed in a constitutional way, in a way that's fair and equitable and that when excessive force is used, police officers are held accountable."
BET Politics - Your source for the latest news, photos and videos illuminating key issues and personalities in African-American political life, plus commentary from some of our liveliest voices. Click here to subscribe to our newsletter.