United Justice Coalition To Host Free Social Justice Summit Examining Policing, Wrongful Convictions, Decriminalizing Mental Health and More
The event includes Ben Crump, Yo Gotti, Charlamagne tha God and others leading conversations on combating injustices and unifying communities.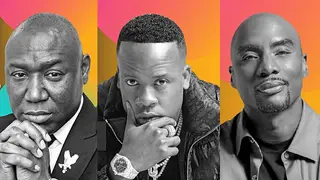 While it may seem as if the anguishing pains of injustice will never end, there are people working in front of and behind the scenes who are focused on bringing about relief by way of social justice. Now, the United Justice Coalition (UJC) has taken a bold effort to bring like minds together in a way that has never been done before.
The UJC is a think tank of experts whose mission is to raise awareness, share resources and support organizations dedicated to social and racial injustice, economic advancement, education equity, and criminal justice reform. The group has been working steadily since 2019 to make impactful change, but now it's time to be more outward facing in their approach. 
The UJC will host a free, open to the public, unique social justice summit at Center415 in New York City on Saturday, July 23 with some of today's leading activists, entertainers, and entrepreneurs for real talk and tangible solutions around the decriminalization of mental health, conditions of confinement, policing in America, transitioning in and out of the criminal justice system and more.
"The United Justice Coalition started as an informal meeting of the minds, but it has quickly evolved into a more purposeful initiative to create change in our communities," said Team ROC and UJC founding member Dania Diaz. "Our goal for this summit is to spark discussion and collaboration and take a solution-oriented approach to reforming America's antiquated policies. At the end of the day, we are all bonded by one common goal – to eradicate injustice."
Those who wish to attend can look forward to a full day of panels, town halls, keynote speeches and networking opportunities with some of the leading voices in social justice activism today, many of whom are a part of the UJC advisory board and will be in attendance.
Dr. Michael Eric Dyson has been tapped to deliver the invocation speech while the families of Eric Garner, Botham Jean, Antwon Rose II and Terence Crutcher are scheduled to participate in a panel that explores how they channeled anger into advocacy after their loved ones were tragically shot and killed by police officers.
Other speakers include Ben Crump, Yo Gotti, Charlamagne tha God, Dr. Bernice A. King, Letitia James, Soledad O'Brien, Ari Melber and Dr. Alfiee Breland Noble. Some of the organizations represented will be REFORM Alliance, Innocence Project, Until Freedom, Dream Corps, Time Done, Anti-Recidivism Coalition, Black Voters Matter, National Association of Criminal Defense Lawyers, National Association of Sheriffs, National Lawyers Guild and more.
"In the wake of so many tragedies and after decades of unfair and unjust policing of our communities and our bodies, the work that the UJC is doing to turn pain into purpose is urgent and necessary," said Robert F. Smith, Founder, Chairman, and CEO of Vista Equity Partners; and REFORM Alliance Founding Partner who is also co-sponsoring the event. "From adversity, we can always find a new sense of hope and a broader community of support."
"REFORM is thrilled to support the UJC Summit Inaugural Social Justice Convention," said REFORM Alliance CEO Robert Rooks. "Team Roc has done an incredible job bringing together a diverse and dynamic group of people to talk about real solutions to advance safety and justice for communities across America. We are excited about our continued partnership to fix our broken criminal justice system through urgently needed probation and parole reform."
The full lineup of panelists and more information on how to  register to attend can be found HERE.