Robert F. Smith's Morehouse Student Loan Pledge Will Also Include Graduate's Parents
The billionaire's expanded generosity is estimated to cost $34 million.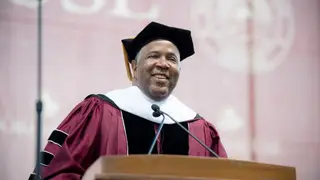 The generous offering was announced to students, parents and guardians in an email from the Atlanta school. "It is our hope that our graduates will use their newfound financial freedom to pursue their career goals, to lead and serve the community, and to remember the spirit of the gift given to them by paying it forward to support the education of future classes of Morehouse Men," David Thomas, Morehouse's president, said in a statement.
Around 68 percent of Morehouse undergraduates have taken out federal loans. Morehouse revealed on Friday (September 20) that the student loan debt amassed at graduation is $35,000 to $40,000, which is higher than the average for students at historically Black colleges and universities.
Robert F. Smith is the founder of private equity firm Vista Equity Partners and his expanded pledge total is reported to cost $34 million. His May announcement during his commencement speech raised additional awareness surrounding the student loan debt crisis. The topic also came up during the latest Democratic presidential debate as candidates outlined how they'd combat the enormous outstanding educational debt college graduates face.