A Crusading Journalist Who Won't Stop, Even After Prison
Rodney Sieh, the publisher of Front Page Africa, is this country's best-known investigator into government corruption.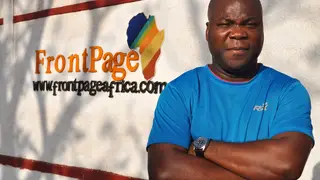 REPORTING FROM MONROVIA, LIBERIA
Rodney Sieh is widely recognized as one of Liberia's most intrepid and relentless investigative reporters. The editor of this country's best-selling newspaper, Sieh is a journalist who has made international headlines for his crusade to expose corruption, a cause that has resulted in having served time in jail.
He is the founder and editor of Front Page Africa, which started as an online publication in 2005 and started to print on the streets of Monrovia in 2008. While the newspaper covers the typical array of news involving business, development and even social events in Liberia, it has made a name for itself for its relentless investigation of corruption within Liberia's government.
His first notable skirmish came in 2010, when Sieh, the paper and a reporter were sued for libel by a former minister of agriculture; Front Page Africa reported that he had embezzled millions of dollars of public money. The minister, Christopher Toe, won the $2 million libel suit, sparking a statement from the World Association of Newspapers, saying that that the amount was a punitive measure.
But Sieh attracted more widespread attention when he was placed in jail after being unable to pay a $1.5 million court award for damages as a result of the newspapers coverage of a government minister who had been fired for corruption. He spent a month in jail, which included a week-long hunger strike to protest his sentence and the conditions in Liberia's jails.
"Being in jail is a horrible experience," Sieh said, in an interview with BET.com. "To be a journalist in a cell with murderers and people convicted of criminal theft is difficult. It shows that the system in our country is far from perfect. It also shows that the jail system in our country has a long way to go. I hope my incarceration, and highlighting the poor food, the poor conditions, will enlighten the world of the situation here."
Sieh was born in Liberia but left during the country's brutal 14-year civil war. He first went to the Gambia, where he did some work for BBC. He then went to London before moving to the United States. While in America, he did internships with the Newark Star Ledger and the Kansas City Star. He landed a full-time reporting job at the Syracuse Post Standard and, later, at the Virginia Daily News, in Newport News.
He returned here in 2005 to work with the Daily Observer, a leading newspaper in Monrovia owned by his uncle, Kenneth Best. But the two parted ways professionally after Sieh championed articles that were critical of the administration of President Ellen Johnson Sirleaf. He subsequently started his own newspaper.
"My motivation comes from a desire to ensure that corruption is eliminated, and if not eliminated, at least put in check," Sieh said. "I see our work in the fourth estate to be a significant check and balance. We don't always get along with the branches of government, but we feel it's important to look at the things that create a negative impact on our country."
To many, Sieh is a highly respected champion of rooting out misdeeds by government officials in a country with a fragile economy. Others, including some in government and in business, see him as a grandstander who often goes too far in his crusades, veering into recklessness.
Nonetheless, his work remains highly popular. Indeed, Front Page Africa is now the leading seller in Monrovia – a city with a dozen or so daily newspapers – and the paper is undertaking a major overhaul of its website to attract even more readers. The former minister withdrew the libel suit against Sieh and his paper was able to resume publication after being shut for some months.
"For me, the toughest part of this is to reside in a country that is very intolerant of the kind of things we do, journalistically," Sieh explained.
"Many people see our work as interfering in the things that they are doing, the things that they don't want the world to see, like stealing millions of dollars of tax money," he added. "It's frustrating when you want to do something that will help the country in the long term, and many people see it as negative. But nothing will stop us from doing what we're doing."

BET Global News - Your source for Black news from around the world, including international politics, health and human rights, the latest celebrity news and more. Click here to subscribe to our newsletter.  

(Photo: Jonathan Hicks/BET)