RNC 2020: Alice Johnson Reminds Us All That She Is 'Free In Body' Because Of Donald Trump
After 22 years in prison, the former federal inmate turned her life around and says there are many others ready to do the same.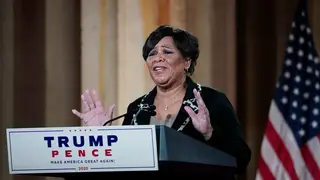 During the final night of the 2020 Republican National Convention, Alice Marie Johnson took the stage to talk about the man who opened the doors to freedom for her in 2018. After serving nearly 22 years in prison as part of a life sentence for her involvement in a million-dollar cocaine ring which included drug charges and money laundering, President Donald Trump granted her clemency.  
Lawyer-in-training Kim Kardashian West advocated on Johnson's behalf and is responsible for bringing her case to Trump's attention. Now, Johnson is a criminal justice advocate herself who is standing by the man who she believes is a champion of  criminal justice reform. 
"When President Trump heard about me about the injustice of my story, he saw me as a person. He saw me as a person and he acted. Free in body thanks to President Trump, but free in mind thanks to the almighty God," said Johnson. 
Johnson admitted during her speech that while she made mistakes in life, but that she used her time in prison for transformation and that there are many more examples of people convicted of nonviolent crimes still imprisoned who are doing the same.  
The former federal prisoner and grandmother received a life sentence under the 1986 Anti-Drug Abuse Act, which Democratic nominee Joe Biden co-authored which apparently ensured first-time drug related felons to life imprisonment for infraction exceeding 5 kilograms of cocaine. And yet, while many other speakers during the Republican National Convention spoke about the Democrats inability to keep law and order and his love for law enforcement, Trump supporters confusingly touted the President's track record for releasing felons.  
In fact, at the time of her release, the White House provided this official statement: "Ms. Johnson has accepted responsibility for her past behavior and has been a model prisoner over the past two decades. Despite receiving a life sentence, Alice worked hard to rehabilitate herself in prison, and act as a mentor to her fellow inmates."