Kirk Franklin Apologizes for Homophobia in the Black Church: The Bible Isn't Written to Attack Gays
"We have not treated them like people," he said.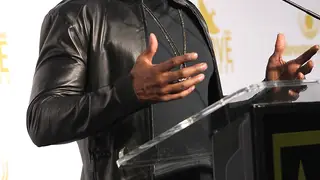 The Black church has, for years, been known for not being the biggest supporter of the LGBT community, but today, Kirk Franklin, a respected force in the religious community, has come forward to apologize on their behalf.
"I want to apologize for all of the hurtful and painful things that have been said about people in the church that have been talented and gifted and musical, that we've used and we've embarrassed... and all this other horrible crap that we've done," he told The Grio. "We have not treated them like people. We're talking about human beings, men and women that God has created."
The "I Smile" crooner explained the Bible was not written as an anti-gay work, but rather, the opposite: "The Bible is not a book that's an attack on gay people," he said. "It's not a book written to attack gay people. It is horrible that we have made it where the Bible is a homophobic manual."
Bringing it all together, Franklin said that he just wants all LGBT-identifying people to know that God is in their corner. "I mean, you want to talk about things that God gets at... pride and jealousy and envy and arrogance," he said. "But what we also see is God sending his son to save us all, because we were all... straight, gay or whatever, lost and in need of a savior, and there's room at the cross for all of us."
Check out the BET original documentary Holler If You Hear Me: Black & Gay in the Church in full below:
BET.com is your No. 1 source for Black celebrity news, photos, exclusive videos and all the latest in the world of hip hop and R&B music. 
(Photo: Terry Wyatt/Getty Images)