Kamala Harris Commemorates 'Bloody Sunday' Anniversary In Selma With Renewed Call To Pass Voting Rights Bills
'We will not let setbacks stop us,' the vice president says.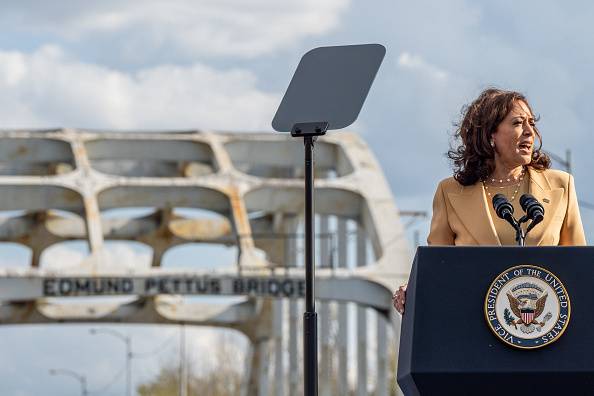 Vice President Kamala Harris Sunday (March 6) called for a renewed push to pass federal voting rights legislation in a speech to commemorate the 57th anniversary of "Bloody Sunday," the day in 1965 when white police officers attacked Black voting rights marchers attempting to cross the Edmund Pettus Bridge in Selma, Ala.
"In a moment of great uncertainty, those marches pressed forward and they crossed," the Associated Press quoted Harris. "We must do the same. We must lock our arms and march forward. We will not let setbacks stop us. We know that honoring the legacy of those who marched then demands that we continue to push Congress to pass federal voting rights legislation."
With the 2022 midterm elections on the horizon, there's a sense of urgency as Republican-led legislatures chip away at voting rights. Several of those states, including Georgia and Arizona, are enacting restrictive voting laws targeting voters of color.
Voting rights activists have urged lawmakers to pass the John Lewis Voting Rights Advancement Act, which is aimed at fighting voter suppression and restoring enforcement provisions of the 1965 Voting Rights Act. Also on the table is the Freedom to Vote Act, which would remove barriers to voting, including allowing all voters to request mail-in ballots.
"Today, we stand on this bridge at a different time," Harris told the crowd. "We again, however, find ourselves caught in between. Between injustice and justice. Between disappointment and determination. Still in a fight to form a more perfect union. And nowhere is that more clear than when it comes to the ongoing fight to secure the freedom to vote."
On March 7, 1965, the late U.S. Rep. John Lewis was a young civil rights activist. He was among the marchers, led by the Rev. Martin Luther King Jr., who peacefully marched across the bridge to demand their voting rights as state troopers beat and tear-gassed them.
Harris said she and President Joe Biden are "fighting for this cause every day," adding, "We have put the full power of the executive branch behind our shared effort." A video clip of her comments is below.