Lamar Odom: Find Out Why He Spent $80,000 On His Teeth
See pictures of his new smile.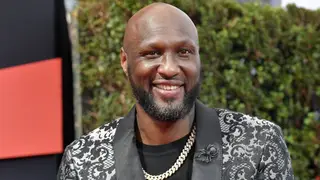 According to TMZ, the two-time NBA champion underwent a four-hour veneer procedure to give his mouth a makeover, costing him $80,000. The outlet reports that Odom paid a visit to Dr. Victoria Veytsman in Beverly Hills, California to change his appearance and had work done on 22 teeth.
"I finally got the million dollar smile," Odom wrote via Instagram after the procedure, which TMZ reports took roughly four hours to complete. He was also reportedly able to contain his anxiety during the dental visit.
On IG, Lamar posted a picture of himself and Dr. Veytsman and added that while he "was scared to do this" the good doctor "made it painless."
Many in Odom's comment section applauded him for having the procedure done. "Nice, be the best version of yourself in this season," one commenter wrote. "This is truly amazing," another user noted.
Check out some before and after photos of Lamar Odom's smile here.