Five Iconic Performances By Diahann Carroll
A brief primer on the late Hollywood legend's career.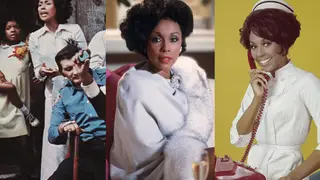 Legendary actress Diahann Carroll passed away on October 4 at the age of 84 in Los Angeles after a battle with cancer. Her pioneering work in television and film helped to break the glass ceiling for Black women hoping to be taken seriously as actresses during a time when Hollywood only offered stereotypical roles. 
With an abundance of talent and determination, Carroll transcended the barriers of racism and sexism by bringing the beauty and power of Black femininity to the Broadway stage and to the small and big screen with poise, dexterity and regality. Ms. Carroll was a trailblazer. 
Although she became an international star for her acting prowess, Carroll was also an incredible singer, dancer and a model for Ebony magazine by the time she was 15 years old. The Bronx, NY, native was a complete artist, and she excelled in every dimension of her artistry. 
During her long and remarkable career, Carroll earned many accolades, including a Tony Award for the musical No Strings and an Academy Award nomination for Claudine.
In honor of her life and career, here's a list of Five Iconic Performances By Diahann Carroll.
For three seasons, from 1968-1971, Diahann Carroll starred in Julia, one of the first situational comedies starring an African-American woman in a lead role. While there were other sitcoms where African-Americans were lead characters, they all played maids or servants of some kind. Julia, on the other hand, was ground-breaking because it was one of the first weekly series to depict an African-American woman as a working class professional on network television. 

Running for a total of 86 episodes on NBC from September 17, 1968, to March 23, 1971, Carroll starred as Julia Baker, an educated but recently widowed single mother who worked as a nurse in a doctor's office at a large aerospace company. 

A critically acclaimed series, Carroll became the first African-American woman to earn an Emmy nomination for Outstanding Actress in Leading Role in a Comedy Series and won a Golden Globe for her role in 1969.

Diahann Carroll's versatility as an actress was on full display playing opposite James Earl Jones in the classic Claudine. Seamlessly making the transition from television to film, Carroll starred as a Claudine Price, a struggling, single mother in Harlem. Because of the family's financial hardship, she is forced to live on welfare in order to take care of her six children. Claudine falls in love with a garbage collector, Rupert "Roop" Marshall (James Earl Jones), who finds reusable items in the trash along his route to regift.

Claudine examines the intersection of race, gender and class that plagues Black women who seek to make a life for themselves in a system designed to keep them from flourishing. The issues of welfare, marriage, poverty and its effects on the Black community are front and center. Diahann Carroll gives a captivating performance and Claudine became an instant classic. Carroll went on to receive both Golden Globe and Academy Award nominations in the Best Actress category.

Television during the 1980s was filled with a plethora of prime-time soap operas where family struggles, sexual promiscuity and opulence were the central themes. Dynasty was ABC's answer to CBS's hit Dallas. Like Dallas, Dynasty centered on a family that gained their wealth in the oil industry, the Carringtons. Noticing the lack of Black people in the prime-time soap genre, Carroll famously said,  "I want to be the first Black bitch on television." 

One evening, Carroll and her manager approached Aaron Spelling, the creator of Dynasty, at an L.A. nightclub to make the case that he needed her on the show. When she walked in, Spelling said, "My God, she is Dynasty" and the rest is history.  Diahaan Carroll crashed the party and brought some much needed melanin and #BlackGirlMagic to the series.  

Playing Dominique Deveraux, the surprise half-sister of millionaire Blake Carrington (John Forsythe), Carroll reintroduced her brilliance to another generation of TV viewers. Carroll's work on Dynasty became infamous for her fight scenes with her nemesis, Alexis Colby, played by Joan Collins. She appeared in 71 episodes of Dynasty and in seven episodes of the Dynasty spin-off,  The Colbys. 

Eve's Bayou tells the story of Eve Batiste (Jurnee Smollett), who resides in a well-to-do  Creole-American community in Louisiana with her younger brother, Poe (Jake Smollett), and her older sister, Cisely (Meagan Good), in the 1960s. Her parents, Roz (Lynn Whitfield) and Louis (Samuel L. Jackson), have a strained marriage. Her father, who works as a physician in the "colored" community, claims to be a descendant of the French aristocrat who established the town of Eve's Bayou. Eve accidentally sees her father having an affair with a family friend (Lisa Nicole Carson), but her account is not believed by her sister, who loves her father. This sets off a chain of events that shakes the family to the core.

Diahann Carroll appears only briefly in the film, but she gives a scene-stealing performance as Elzora, the local psychic/fortune teller. Not only does Elzora have the ability to foresee future events, but she has the gift to pronounce curses, which she unleashes upon the family. In Eve's Bayou, Carroll conveyed the length and breadth of her giftedness as an actress.  

A Different World, (1989-1993)

From 1989-1993, Diahann Carroll played Marion Gilbert, mother of Whitley Gilbert (Jasmine Guy) on A Different World. Marion was an over-the-top Southern Belle who wanted her daughter to marry a wealthy man so she could have the best of everything. On each episode she appeared on, she slayed. Her jewelry, designer clothes and her snobbish personality created TV magic. Carroll played the money-hungry, looking-down-her-nose-at-everybody Marion Gilbert with hilarious clarity. The constant shade that was tossed back and forth by her and Dwayne Wayne's (Kadeem Hardison) mother, Adele Wayne (Patti LaBelle), is still being watched in reruns today. 

For her recurring role as Marion Gilbert, Carroll earned an Emmy nomination for Outstanding Guest Actress in a Comedy Series.