Jussie Smollett Stands on Alleged Attack, Says It Was 'Something Out Of Looney Tunes Adventures'
The embattled 'Empire' actor took the stand during his trial, still maintaining that he was the victim of a hate crime.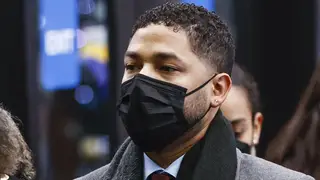 On Monday (December 6), Jussie Smollett took to the witness stand during his trial and described his alleged attack, claiming he was the victim of a hate crime that actually took place.
CBS Chicago reports the former Empire actor also noted that he paid two brothers – Abel and Ola Osundario – $3,500 to help him with training and nutrition advice and not to stage a fake attack against himself.
Smollett faces six counts of disorderly conduct and is accused of staging a fake attack against himself almost three years ago and then lying to police about it.
Smollett told police he was attacked as he was walking home at around 2 a.m. on January 29, 2019. He claims two masked men shouted racist and homophobic slurs at him as they beat him, put a noose around his neck, and poured a chemical on him. He was reportedly on the stand for about six hours on Monday.
During his testimony, Smollett said a threatening letter was sent to him at the Empire studio and that executives got him security. This was a counter to the special prosecutor's claim that Smollett had planned the attack because he was unhappy with the response that letter received.