Jada Pinkett Smith Says Will Smith's Ex-Wife Sheree Zampino Once Walked Into The Couple's Master Bedroom
The ladies came together on the newest episode of 'Red Table Talk.'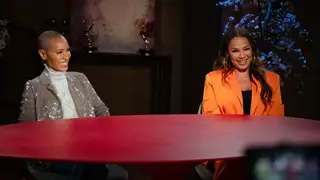 Sheree Zampino, Will Smith's ex-wife, joins the latest episode of Red Table Talk as a guest host and also opens up about the complexities of her relationship with Smith's wife of 25 years, Jada Pinkett Smith.
In the episode streaming on Wednesday (Oct. 19), Zampino joins Pinkett Smith and Adrienne Banfield-Norris for the episode titled "Are You A Toxic Forgiver?" kicking off the episode, the ladies discuss the early years of their relationship and both agree that they overstepped one another's boundaries while trying to blend together their families.
Zampino is the mother of Will Smith's eldest son, Trey, the couple divorced after three years of marriage. They tied the knot in 1992 before calling it quits in 1995.
Will later married Pinkett Smith, two years later in 1997, before having two kids of their own, Willow and Jaden.
"I'm imagining it definitely took some forgiveness on your part because I can remember some times that I really crossed the line," Pinkett Smith recalled. "There was one time I think Trey had a playdate and he had misbehaved."
Adding that she wanted to sit down and have a talk with Zampino at the time.
"It was out of line but you didn't mean harm," Zampino said looking back on the incident. "You were like 'listen we need to get him right.'"
Pinkett Smith also remembered a time when Zampino marched into her home and made her way back into the master bedroom to just look around.
"You wanted to see what was going on, like how it was decorated," Pinkett Smith shared. "You marched back there and you were like 'Oh okay. I just wanted to see."
To which Zampino responded that behavior on her part was out of line.
"It was early on and I just think that you were just trying to [show] who is Queen Bee around here," Pinkett Smith said before she and Zampino took a moment to laugh about it.
But Zampino also made note that her only requirement when it came to becoming a blended family was that her son was treated well.
"Your heart was always right towards him [and] wanting the best for him," she said.
Elsewhere in the episode Pinkett Smith and Zampino agreed that the dynamic of their relationship evolved very publicly and was a learning experience they were getting used to while also being in their 20s.
"I would have definitely taken a beat as far as putting myself within the dynamic of you guys," Pinkett Smith said speaking Zampino, Will, and their son. "Let's give this year, let's let you two just flesh out whatever y'all have to figure out."
"I didn't understand it," Pinkett Smith continued.
"But when you got it," Zampino added. "I remember you coming to me and you were very emotional and you said 'I just didn't know.' And basically what you were saying was 'I was in the picture too soon.'"
"I was," Pinkett Smith said.
Be sure to watch the new episode of Red Table Talk: Are You A Toxic Forgiver streaming on Wednesday (Oct. 19) at 9 am PT/ 12 pm ET on Facebook Watch.