Charges Dropped Against Black Colorado Ranchers Who Say They Were Victims Of Racist White Neighbors
Authorities should have conducted a more thorough investigation before filing charges, the couple's lawyers say.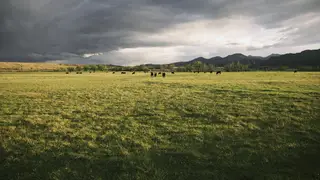 Prosecutors dropped all charges against a Black Colorado ranching couple who were arrested in February on felony charges but claimed it was their White neighbors who were terrorizing them, The Denver Post reports.
"We are pleased with this outcome and recognize the district attorney's office for reaching this conclusion," the couple's attorneys said in a statement Thursday (May 11). "While justice has been served today, the fight for individual, law enforcement and prosecutorial accountability are far from over."
Nicole Mallery and her husband Courtney, own a 640-acre ranch in rural Yoder, a predominantly White town about 100 miles southeast of Denver. El Paso County prosecutors charged them with felony stalking, tampering with a utility meter and petty theft on Feb. 6 in connection with an ongoing dispute with a neighbor.
CBS News reported that the Mallerys and their neighbor Teresa Clark were in a longstanding feud over ownership of Truckton Road, an easement leading to both the Mallery and Clark properties. The Black couple says they own the easement, which is the only way to access Clark's property.
Nicole accused other neighbors of siding with Clark and launching racist attacks on them. "We are stopped. We are harassed. We are chased. We are followed. There's been spray paint where they put (n-word) on items," she said.
Both neighbors filed numerous restraining orders against each other. In the Mallerys' arrest affidavit, Clark alleged that the Black couple had surveillance cameras pointed at her house and claimed to have videos showing the Mallerys driving behind her on the disputed roadway and stopping at her front gate.
When asked to confirm that the charges were dropped, a DA spokesperson said a "public criminal record does not exist with respect to these defendants who are the subject of the sealed record."
Under Colorado law, cases are sealed if prosecutors dismiss charges, according to local station KDVR. The law is intended to protect defendants if their cases are dismissed and never prosecuted.
Meanwhile, the Mallerys' attorney, Tyrone Glover, told The Post that the couple could possibly file a lawsuit.
"We implore the district attorney's and sheriff's offices to conduct more thorough front-end investigations before filing charges, to minimize injustices such as these in the future and to ensure the criminally accused are afforded due process of law," the couple's lawyers stated.
The Mallerys accused El Paso County sheriff's deputies of largely ignoring their complaints about White neighbors poisoning their animals, threatening them with guns and other acts because of their race.
In defense of the deputies, the sheriff's office released body-camera footage and reports. The department said it received hundreds of calls from the Mallerys, Clark and others accusing each other of crimes.