Why Cardi B, Saweetie And Queen Naija's Hermés Birkin Bags Started A Twitter War
If everyone you know seems to be talking about Birkins lately, here's why.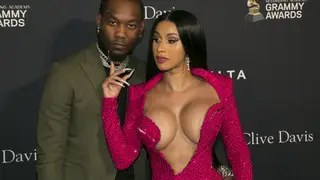 Hermès Birkin bags are currently trending all over social media after rapper Saweetie hopped on her man's (Quavo) Instagram live and said: "If he is not getting you a Birkin if he is not paying for your bills…throw that n***a back to the streets! Okay?!"
In the clip, the California-bred rapper sassily says that she exit's the frame, and her boyfriend, Quavo, walks up to the camera and shrugs as Migos' song "Need It" featuring Young Boy Never Broke Again can be heard in the background. Shortly after, the video ends.
Well, Twitter users and celebrities have been going nuts over these elite bags. Queen Naija recently posted a video of her new orange Birkin bag that Clarence gifted her for her birthday. Jordyn Woods also posted a video of her bags that her new boo, NBA player Karl Anthony-Townes gave her for her birthday. Kylie Jenner also gave Cardi B a baby blue Birkin for her birthday to add to her growing collection.
The Hermès Birkin bag has always been a sign of wealth. Everyday people don't usually walk around with the bag because they cost a small fortune. Birkin bags are the most expensive bags globally, ranging from $40,000 to $500,000 for a single bag. Named after actress and singer Jane Birkin, the iconic bag is handcrafted and strictly exclusive, which drives the value of the Birkin year after year.
We've seen Beyoncé, Lil Kim, Paris Hilton, and Kim Kardashian carry Birkin's over the years. But now, rappers and young Black celebrities seem to have taken the trend and made it their own. Gunna has a platinum song named "Birkin Bag." And 50 Cent has a verse on Pop Smoke's hit song, "The Woo," where it says: 'Got that big Birkin bag worth five, six figures.' So, everyday people seem to think that buying these bags are an attainable goal. 
Well, over the weekend, Offset treated his lady to a shopping spree. Cardi B posted a photo inside the Hermès store in Beverly Hills, where her hubby spent $130K on bags for her.
Offset showed off a receipt which had a Birkin and two Constance bags. That photo went viral and caused Yaya Mayweather and other celebrities to debate over whether the bags are real or not since so many people are posting them. 
See how it all played out below. 
Yaya Mayweather Feels That some of these Birkin bags must be fake because everyone can't get access to them. She says that you cannot just walk into a store to buy a Hermès bag.

Offset wanted to make it clear that Black people having access to luxury items shouldn't be a debate, and has receipts for the bags he just purchased for Cardi.

Yaya's mother, Melissia Rene jumped into the conversation showing off her impressive Birkin bag collection. The influencer says that her house is paid for cash and so are her bags. She's says that she's not in competition with Cardi B or anyone else.

Safaree Samuel's don't want to hear anything about a Birkin bag unless you're in a serious relationship. He's not splurging otherwise.

Lil Durk Says that he bought his lady some property instead of a bag. I mean they do cost around the same amount of money, so why not!

Twitter users even chimed in on the only kind of Birkin bag they acknowledge.

Snowfall's lead actor, Damson Idris came through with a message for everyone going crazy over these bags.

Youtube influencer, Kayla Nicole chimed in letting us know that these celebrities debating over $20K bags is the silliest act ever. People need to focus on the important issues going on in the world. We couldn't agree more!