Common Celebrates His Daughter Graduating Howard University Law School!
The star was all smiles as he watched his daughter Omoye Assata Lynn receive her degree.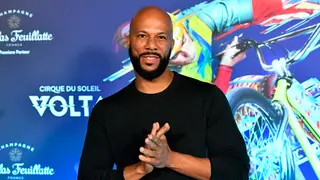 Common was all smiles as he watched his daughter Omoye Assata Lynn graduate from Howard University Law School. Keep scrolling to see the proud moment when the rapper/actor watched his daughter switch her graduation tassel.
We love to see celebrities front and center for their children's big milestones. In full support of his baby girl, Common watched as his daughter made her way down the aisle to collect her degree from the honorable HBCU.
After the ceremony, Common happily posted footage from the graduation onto his Instagram, along with a heartwarming caption about how his daughter graduated within three years. 
"There are no words to describe how proud I am! Finishing Law School at Howard University in the 3 years is pretty AMAZING," Common wrote on Instagram on May 8. "Congrats to my daughter and all the graduates of 2022. Now go out in the world and be great!"
According to US News, "A traditional, full-time J.D. program lasts three years, though accelerated programs can be completed in only two years and part-time J.D. programs typically take at least four years to finish. Experts say that a three-year law program is both academically demanding and emotionally intense, especially during the first year."
Congratulations, Omoye! Keep doing amazing things!