Common Reveals Why He And Tiffany Haddish Ended Their Romance After 1-Year Of Dating
'We weren't feeding the relationship.'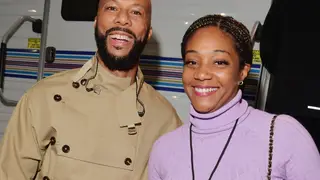 Common and Tiffany Haddish are calling it quits after a year of dating, but the decision to end their budding romance is one they decided together.
On Thursday, during an episode of Fox Soul's Hollywood Unlocked With Jason Lee Uncensored, Common spoke out about their mutual decision to end their relationship, noting that their hectic work schedules kept the two from pouring into their relationship once. "It really didn't allow us to spend as much time and put as much energy into our relationship. I don't think the love really dispersed. We weren't feeding the relationship, neither one of us is gonna stop. We both care about our crafts and what we do," Common explained. "We care about love too and partnership, but I think the energy that has been put into our careers and continuing to want to do the things that we do for ourselves and for people ... it was hard for me to balance all of that and keep the relationship fed."
In discussing the ex-couples reason for breaking up, the rapper revealed deeper parts of their relationship and what he loves about the Girls Trip actress. "She is one of the best-hearted and most authentic and caring people that I've met in life. That's what made me love her and be in love with her and want to be in a relationship with her and grow with her." 
The pair met on the set of the 2019 film The Kitchen, where they became friends. The following year Haddish revealed that she was in a relationship on Steve-O's Wild Ride podcast, later confirming that her new beau was the "Blue Sky" rapper. According to Haddish, their relationship was strictly platonic until it wasn't, following a virtual date on Bumble. "And then he got tested for everything, I got tested for everything, and yeah, we've been f—ing," Haddish shared.
While the pair seemed to enjoy their relationship and each other, they have both decided to continue loving each other from a different space while they both thrive in their respective careers.