Kendrick Lamar Interviews NWA and It's Dope
Another legendary moment.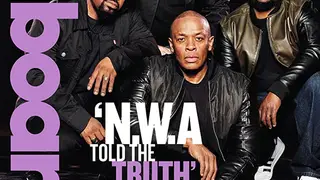 Kendrick Lamar is the quintessential artist from Compton and isn't afraid to rep his city in the eyes of the mainstream.
His appearance on Compton: A Soundtrack has cemented his place in the history of West Coast hip-hop. So naturally, it was big to have K. Dot interview NWA (Dr. Dre, Ice Cube, DJ Yella and MC Ren) for the latest issue of Billboard.
In 2011, Dre called Lamar "the new king of the West Coast." It's a huge claim, but he's holding the torch high after the widespread success of To Pimp a Butterfly.
The 28-year-old rapper interviewed the group in a conference room, which is probably not the greatest setting when talking to the most dangerous crew, but it certainly worked for him. The convo ranged from their early days working with Eazy-E, how they changed hip hop and pop culture and some of their favorite artists from this generation. Read some excerpts below.
MC Ren: Cool. Just a cool brother.
DJ Yella: Ahead of his time.
Ice Cube: Straight visionary.
Dr. Dre: He took that street knowledge and brought it over to this thing. Super-smart cat.
MC Ren: In the early interviews, Eazy was calling us an all-star group, and this [was] before anyone even knew us. But he knew before we knew.
Ice Cube: Eazy's thing was, "I want the music hard, hard, hard." He wanted the rough hardcore s**t that couldn't be compromised.
Ice Cube: World's most dangerous group — a group that made it all right for artists to be totally themselves.
Dr. Dre: A legacy of inspiration, because we came from nothing.
Ice Cube: A legacy that says that although we were living in a destructive neighborhood, we were able to do something constructive.
On the new generation of MCs:
MC Ren: I like a few. I like you.
Dr. Dre: You're No. 1 on my list because of the care and attention you bring to your tracks and the precision you bring to your sound. There are a few people out there I listen to and respect.
Dr. Dre: Definitely Pusha T.
MC Ren: I'm not saying this because you're here, Kendrick, but I like your song "Cut You Off." I've been listening to you for a minute.
Read the full interview here.
Click here to enter the #LookYourSundayBest contest for a chance to win FREE natural hair-care products.
BET.com is your No. 1 source for Black celebrity news, photos, exclusive videos and all the latest in the world of hip hop and R&B music.

(Photo: Billboard Magazine)