Republican Governors Ask Biden To Withdraw Student Loan Forgiveness Plan
The president's plan forces taxpayers to financially bail out 'an elite few,' the governors argue.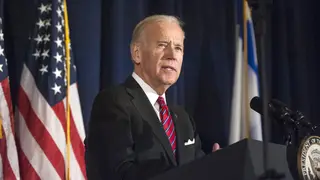 "As governors, we support making higher education more affordable and accessible for students in our states, but we fundamentally oppose your plan to force American taxpayers to pay off the student loan debt of an elite few—a plan that is estimated to cost the American taxpayer more than $2,000 each or $600 billion total, a price the people of our states cannot afford," the letter stated.
Biden announced the plan on Aug. 24 to forgive $10,000 in federal student loan debt for most borrowers. In a tweet, Biden said he'll also cancel up to $20,000 for recipients of Pell Grants. The relief will be limited to Americans earning under $125,000 per year, or $250,000 for married couples or heads of households. The Education Department noted that the relief is capped at the amount of a borrower's outstanding eligible debt.
According to the GOP governors, the plan unfairly shifts the financial burden to "the vast majority of taxpayers" from the 17 percent of people with federal student loan debt.
"Shifting the burden of debt from the wealthy to working Americans has a regressive impact that harms lower income families," they stated, adding that the plan calls for low-wage workers to pay for the graduate and professional degree of highly-paid individuals. They also maintain that the Biden plan is unfair to people who paid off their student loans.
What is more, the governors argued that presidents don't have the authority to unilaterally cancel student loan debt, claiming that some Democrats share that view.
Biden's student debt relief plan was welcomed by many others. The National Urban League called it "a first step" toward "the financial freedom needed to purchase a home, save for retirement, and build wealth for themselves and their families."
The civil rights organization, citing a Brookings Institution report, noted that Black college graduates owe an average $7,400 more than their white peers upon graduation. One in four Black borrowers would see their debt cleared entirely under the plan.