Ray J Slams Kris Jenner Again In Sex Tape Scandal, Claims She Took A Fake Lie Detector Test
Jenner answered a series of uncomfortable questions on air while hooked up to a polygraph.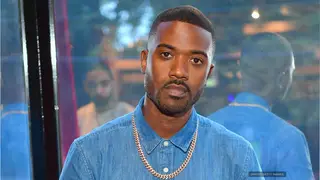 Ray J appears to be furious after Kris Jenner's appearance on the Late Late Show with James Corden.
According to Complex, Jenner took a lie detector test saying she didn't have anything to do with the release of the infamous sex tape between her daughter Kim Kardashian and Ray J.
The examiner determined that she was telling the truth, but Ray J is not settling with the results.
On Saturday night (September 10), Ray J, 41, posted a video on Instagram, telling Jenner and Kardashian they have "f**ked with the wrong Black man" and that they're trying to make him "look like a liar."
Ray J has denied releasing the footage and says Jenner is the orchestrator of the leaked footage.
. "I was just gonna handle this s**t legally, right, and just hit you in court and just get what I'm deserved from all of y'all being foul and trying to defame me, trying to make me look bad, when YOU know what's up," he continued in the video.
Ray J also expressed his anger for CBS allowing Jenner to partake in the alleged lie-detector test which involved John Grogan, who Ray J shares has a history of wrongful practice.
"John Grogan is a fake. He is not a polygraph examiner. He is quite accurately known as the polygraph parasite," he wrote in the caption.
Later, Ray J posted a 28-minute video, where he says there are two versions of the sex tape. He then goes on to say that Jenner preferred the first sex tape, "because it gives my daughter a better look."