Ray J Hits Back At Critics Of Brandy Leg Tattoo
Hear what he has to say.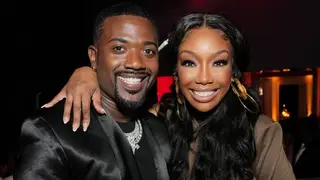 Earlier this month, Ray J tattooed a portrait of Brandy on his leg. Critics went in on him in the comment section of his Instagram reel, with one calling it cringe-worthy.
But on Friday (July 15), the 41-year-old "One Wish" singer hit back, saying, "It's my leg, and my sister," TMZ  reports.
"I love my sister and that's just a symbol of me saying thank you for putting me in. If it wasn't for her, I wouldn't be here," he continued. "I'm humbled just to have her help me."
On the forehead of the tattoo, it reads in graffiti-style print, "Best Friends 4 Ever" and "From Ray J With Love"
One commenter described the artistic expression as "cringy," also saying, "I love my sisters but no way I am putting their face on my leg."
Brandy does admit she was initially a bit uneasy about the tattoo, but it has grown on her.
She told TMZ that after speaking with her brother's tattoo artist, who uses a "Basquiat type of style" for his work, she was open to the idea of getting a Ray J tribute tattoo. She said it would be more simplified, as she's considering getting his name on the back of her ear. She says this may happen soon, "but I'm not gonna get what he got."
Ray J, 41, is getting his entire leg covered with music, love, scriptures, the vocal bible, family ghosts, positive words, and themes. He's aiming for a gothic theme and calls it "the holy leg."
The artist known as Mashkow has a certain style to his art – specifically the bloody eyes –  which fans questioned. Ray J said that's just his style. It's a style that Brandy was able to understand after seeing his Instagram page full of tattoos and designs.