Halle Berry Reveals Her Anti-Aging Regimen
"Probitoics are a big part," said the Oscar winner.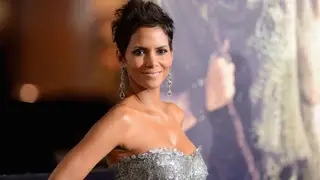 Halle Berry continues to age like fine wine, and now she is revealing how she does it.
On Sunday (August 27), the Oscar winner fielded burning questions from fans while on Instagram Live, then Berry  got candid on how she maintains her health and wellness, as reported by PEOPLE.
"Let me tell you, I am aging," she said in the live session, "but I'm going down fighting."
"I'm going to accept that aging, I'm going to keep doing all my supplements," said Berry, who pressed record on her IG Live to promote her new "side hustle" as Chief Communication Officer for Pendulum, a probiotic company that she adores.
"I loved it so much I reached out to the company and asked to be a part of it," she explained to a user who joined the Live.
For her, probiotics have been a game changer.
"Probiotics are a big part" of her lifestyle that she swears by to help "metabolize my food."
The mom of two –who also has diabetes– revealed that she avoids processed sugar to preserve her health.  "I think that's helped me over the years, actually, as well. Having that disease has actually made me healthier than many people that I actually know, because I've always been very mindful of that."
"My sugar's better, so that I stay healthy. That's how we fight that in 2023," said Berry. She also says she takes "a ton of vitamins," including "calcium for my bones" as "we go down that path of life."
"I'm pretty much a pharmacy," she joked.