SZA Reveals Doja Cat Will Be The Feature For Her Next Single "Shirt"
The pair collaborated on the record "Kiss Me More," which earned them both their first Grammy wins in April.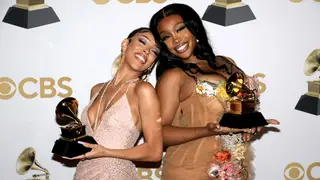 Do we have another Grammy Award-winning smash hit on our hands from SZA and Doja Cat?
During her concert in Madrid, the TDE singer-songwriter revealed to her fans the guest feature for her next single "Shirt," and shared it was none other than her "Kiss Me More" partner.
"Want to know a secret? You all want to know who's on this song? It'll be like our secret, right?" the "Good Day" singer said during her set.
"The hint is we already have a song together. Her name starts with a 'D' and it rhymes with 'Soulja.'"
The pair collaborated on the hit single "Kiss Me More," which earned them their first Grammy, winning the award for Best Pop Duo/Group performance earlier this year. The single served as the first single from Doja's third album Planet Her.
As fans wait for the follow-up to CTRL, the musician re-released her first album and gave fans a deluxe edition with new tracks like "Tread Carefully," "2AM," "Awkward," "Jodie," amongst others.
See SZA share the news below.