Exclusive: Too $hort Ain't Going Nowhere
The rapper talks about his upcoming projects and why no one should ever expect him to retire.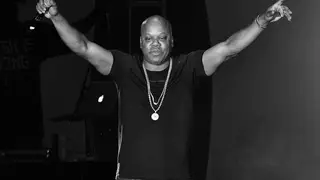 Bay Area hip-hop icon Too $hort had already been a well-established indie artist during the early days of the culture before dropping his breakout album Born to Mack 35 years ago last July. By then, the Oakland native had already released several projects years from Don't Stop Rappin all the way to Raw, Uncut and X-Rated featuring classic tracks like "Don't Even Stop" to "Short Side/ Blow Job Betty."
For over four decades, Too $hort, born Todd Anthony Shaw, has aged gracefully with a long stream of chart-placing music that created hits ranging from current post-2000 standards "Shake That Monkey" and "Blow The Whistle" to 90s throwbacks like "Gettin' It." $hort's collaborations with Jay-Z, Notorious B.I.G., Lil Jon & The Eastside Boys, Wiz Khalifa, Kelis, Chris Brown and even Lady Gaga among others have only added to his artistic prestige.
However, it all started without a major label push.
"Being an indie hip-hop artist at the time was an unknown space," explained $hort. "There was no formula. There's nothing to fall back on and say this is how it's done so you just kind of do it. If you look up the street in Vallejo, E-40 was experiencing the same thing in the same time frame. There's no outlet or labels looking for us though in my mind I was asking myself questions. Should I jump on a Greyhound and go walking around New York City? Do I walk up and down Sunset Boulevard looking for a deal? We just did it through trial and error."
It wasn't like modern times when artists could use Canva graphics based on a photo shot on a cell phone or create, and mix songs on a laptop to upload to a music streaming service and hope for the "viral" moment.
Short remembers a time when he had to speak with manufacturers directly, pick up boxes of tapes and collaborate with distribution houses to ship out to various record stores when $hort wasn't directly selling copies by hand. That doesn't even count the work that went into making the music and packaging. It didn't matter if it was during the day or at nightclubs at night when he went direct to the consumer.
"You gotta be out there every day," $hort explained. "And one thing that was always important to me was, I like to hang out late at night. I like to hang out every night, but you can't get anything done unless you get up in the morning and do what you gotta do. I developed a habit of getting all the partying in front I wanted into at night and waking my ass up in the morning to hustle."
By the time Born to Mack dropped, featuring breakout tracks including "Freaky Tales" and "Dope Fiend Beat," the rapper used that formula to sell a whopping 50,000 cassette tapes from his trunk. That independent hustle and local following attracted the big wigs at Jive Records for a re-release about a year later.
Over two dozen projects split between platinum albums, mixtapes, collaborations, EPs and compilations have given the well-established West Coast hip-hop mainstay two retirement pump fakes. His last official full-length album was 2019's The Vault.  Speaking with Revolt last March, he mentioned never retiring. During Too $hort's time with BET over Zoom, while running errands, he said the pandemic lockdown inspired him to record even more music.
"I probably had more than 50 solo songs," said Too $hort. "I have two projects to release. I'm following the f--king vibe man. I'm recording verses for other people this week and next week. I'm active out here. I took the philosophy that I'll stop rapping when the wheels fall off."
That includes the upcoming release of the Mount Westmore collaborative project with Ice Cube, E-40 and Snoop Dogg. Initially, the album titled Bad MF's was released exclusively through NFT last June but is set to drop on music streaming services sometime in December.
So far, some singles have been released commercially including "Big Subwoofer" and "Too Big."
According to $hort, the NFT release was purely a business decision to help push a bigger more commercial release through digital music streaming platforms.
"We took the NFT money, which was a lump sum, and then diverted it to be marketing money for the Mount Westmore album that's about to be released to the masses," explained $hort. "We didn't do this to alienate fans but to have extra weapons and more money to do more stuff so fans can get a better experience."
Staying commercially relevant in the modern hip-hop space is more than just music. Being at the forefront of what's new in business and technology is just as important. $hort more than understands that. If he's not doing collaborative NFT projects on his own or with Mount Westmore, he's holding virtual strip club performances 
"Every time you present a new platform to me, I'm looking at that like a new line of distribution," described $hort. "I made X amount of dollars off my music when I was young and now I'm making that money all over again right now on these different platforms. I'm breaking bread with all kinds of different people that either they want to deal with some classic Too $hort or they want to deal in some exclusive Too $hort or whatever it may be."
At the age of 56, Too $hort has reached a point in his life where he really has nothing to prove despite maintaining his drive. He became ambitious toward making money in hip-hop because he was part of the growth the culture enjoys now.
"I had a job in high school working Oakland A's baseball games selling Coca-Colas up and down the aisles and briefly put in a few months at Jack in a Box," Too $hort said. "I've never in my life as an adult ever had a job except for hip-hop."