Phaedra Parks Gets Asked To Officiate Wedding in Santorini Of Couple She Helped Get Engaged
The reality star helped them get engaged on the Cameo app.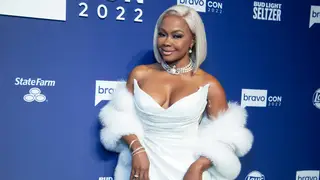 Phaedra Parks is helping couples pop the big question and walk down the aisle.
In a recent interview with PEOPLE, the Married to Medicine personality revealed that two fans asked her to officiate their upcoming wedding, slated to take place during the first weekend in October in Santorini, Greece.
"Some very wonderful admirers of mine asked me to come and officiate their wedding," the lawyer told the outlet. For soon-to-be-husbands –David Ramdeen and Taylor Rust, who met on the dating app Tinder– their connection to Parks goes back to when they messaged her on the Cameo app. From there, she helped them to get engaged.
"I did the engagement for them. I did the proposal. I asked the person to marry his partner. And he accepted. And now they're getting married," she noted of duo.
"I do believe love is love," Parks added.
With a grand engagement in the books, it was a no-brainer for the couple to ask her to officiate their nuptials. Parks was all in for their sweet request, but due to work obligations, she had to cancel. Although she won't be able to wed the couple, she is still helping them prepare for a lifetime together with pre-marriage counseling.
"Because marriage is a journey," she explained. "And it's not always a good journey. It's ups and downs. Highs and lows and ebbs and flows. So you've gotta definitely make sure you're prepared and you're basically committed to it. Not to pressure them, but it is a commitment."
Now, as the couple gets ready to exchange vows, their bond with Parks is forever ingrained.
"And so I told them to keep in touch 'cause I wanted to know about it. I gave them my cell number. They followed me [on social media]. I followed them back. And so we talk and I've sent them Christmas cards," she quipped.